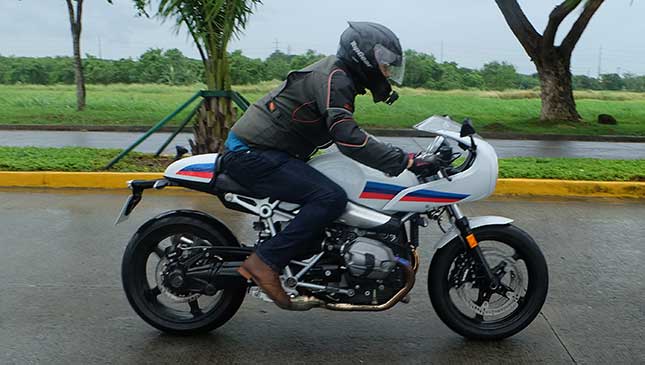 It only takes two seconds for one to realize that the R nineT Racer is a special bike. BMW Motorrad has had some of the most iconic and legendary motorcycle designs throughout its existence, but it was only in the 21st century when it put its old styling cues in a modern-retro throwback in the Racer.
We at Moto Sapiens absolutely adore the current retro movement in motorcycles. We've salivated with desire at the Ducati Scrambler, Yamaha XSR and other similar bikes. These rides tickle our nostalgia bones with their drop dead gorgeous looks.
Despite the overflowing retro models, the R nineT Racer remains more special than anything else.
Continue reading below ↓
Recommended Videos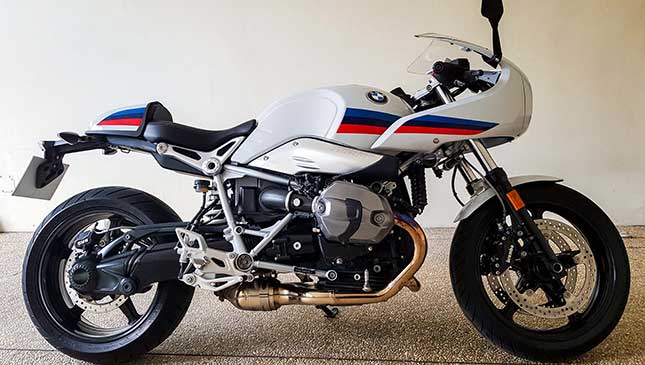 STYLING
This bike is gorgeous. Not only in a bike kind of way, but gorgeous as a machine in general. Sure, bikers love the way it looks, but show this bike to a person who knows absolutely nothing about motorcycles and their eyes will sparkle with a lust that can only be described as 'primordial.'
From the single headlight to the way the rear seat is replaced with a body colored panel, this bike exudes so much sex appeal. With our less-than-model-like proportions seated on the bike and curled over the swept back bars, we feel the bike's looks rubbing off on our pleasantly plump frames. Basically, no other bike comes close to just how special this bike looks.
Take a seat, go for a ride, catch a reflection of yourself on a passing car and you'll realize just how special it is.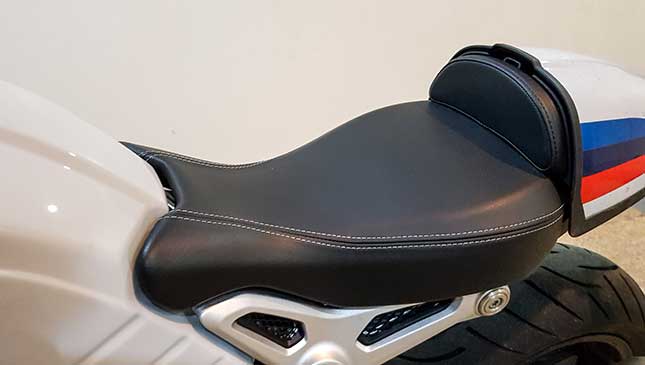 SADDLE
Such stunning looks come at a cost because this bike is the epitome of tiis ganda. Straddle the bike and you will immediately realize how far forward the bars are. Then you would start thinking: This bike isn't called a 'Racer' for nothing.
You sit far back with your legs swept behind you, which puts you into a racing tuck befitting of the performance promised by BMW's striking appearance. Such position makes it impractical for everyday use, and longer rides put a strain on your lower back as your body struggles to stay upright with all the controls forcing you onto your belly.
Keep at it, and your wrists will eventually hurt because of the weight on them. Riding this motorbike is far from comfortable—it's very much like donning a pair of high heels. Such is the price of beauty.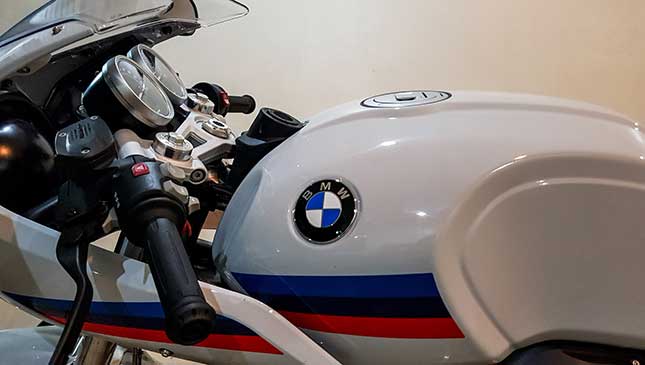 ENGINE PERFORMANCE
The Racer is powered by a 1,170cc boxer twin that puts out respectable numbers at 110hp and 116Nm. More than that, the engine just feels retro (in a good way). When you fire it up, the motorbike roars to life with a sputter and a shake.
It feels decidedly coarse, in a way that puts a smile on your face. Far from the generic sewing machine sounds you get from modern engines, the heart of the Racer pops and crackles in an organic way that bares the soul of the machine.
The only drawback is a pretty big one. And it is the fact that this is an air/oil cooled mill, which means that the only way to cool the engine down is to have air flowing over the exposed heads. Its engine temperatures would shoot up in Manila traffic. We had to stop and let the engine cool down twice on EDSA during rush hour.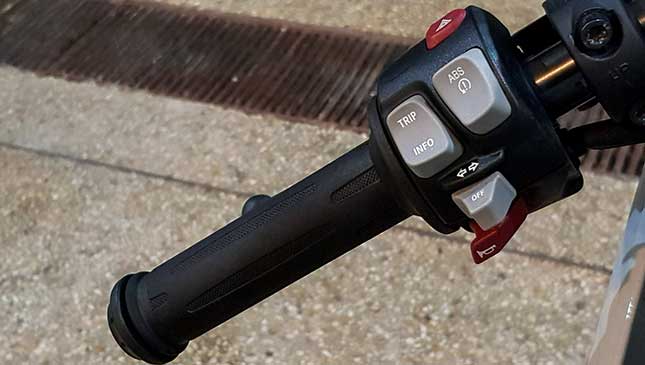 RIDE AND HANDLING
The R nineT Racer handles like a dream. The uncomfortable riding position, while terrible in daily commutes, is ideal for carving corners and putting a knee down. The telescopic fork up front and the die-cast aluminum swing-arm help the bike hold a line through the apex while double disc brakes up front and a single disc at the rear stop the bike with authority.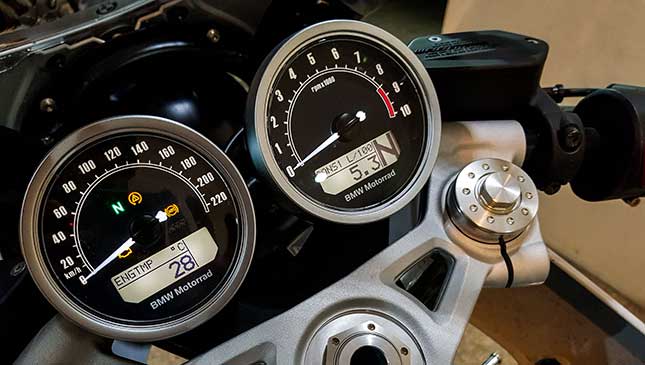 EXTRA FEATURES
The Racer comes standard with BMW Motorrad ABS and a trip computer. Unfortunately, for the life of us, we couldn't figure out a way to tell just how much gas is left in the tank. It has no fuel gauge, and the only indication that you are running dry is a 'kilometers covered on fuel reserve' indicator.
This isn't a problem if you own the bike and are used to the tank's range. But for mere mortals like us who only have this handsome beast for a few days, the range anxiety is real.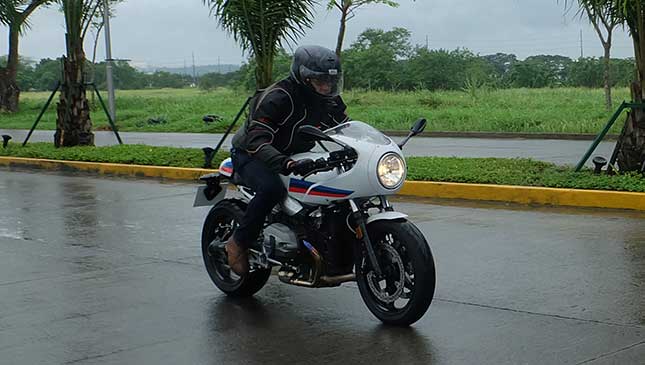 THE VERDICT
The BMW R nineT Racer is one of the prettiest bikes you can buy today. It embodies the absolute best of what the retro-modern bike circle has to offer.
It's more than just looks. It handles and feels as special as its looks. If you can live with the few drawbacks it has, like the extremely aggressive riding position, no other bike can easily put a smile on your face, even if it's just sitting nicely in your garage.
SPECS: BMW R nineT Racer
Engine: 1,170cc Air/oil Cooled, four-stroke, twin-cylinder boxer engine with balance shaft
Transmission: 6-speed helical synchromesh gearbox
Final drive: Shaft
Power: 110hp @ 7,750rpm
Torque: 116Nm @ 6,000rpm
Seat height: 31.7 inches
Price: P 1,100,000
Score: 17/20