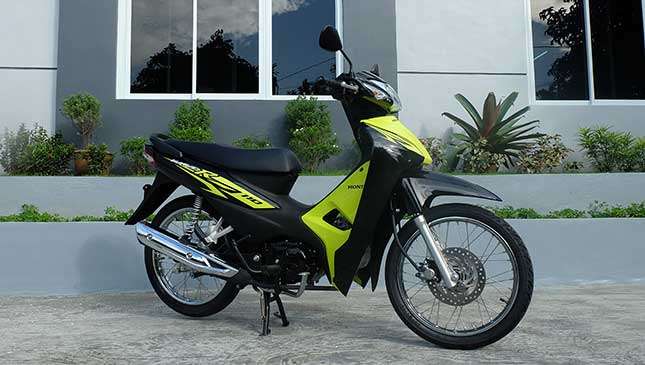 The implementation of the new tax reform law has caused the prices of many basic commodities and services to go up. These include fuel, food, beverages, and, potentially, jeepney and bus fares, taxi flag-down rates, etc. Thankfully, and we hope the DOF doesn't get any ideas, motorcycles are spared from the new taxes. And this is why motorbikes like the Honda Wave 110R deserve a second look.
The Honda Wave line has proven to be a multi-purpose two-wheeler. Aside from being a daily shuttle, this iconic motorcycle is used for business purposes like door-to-door delivery, and (shh!) habal-habal operations. Through the years, the Honda Wave has built a reputation as a sturdy workhorse resulting in many owners keeping them for a long time.
Continue reading below ↓
Recommended Videos
Is the latest Honda Wave 110R still a good budget choice? Let's find out.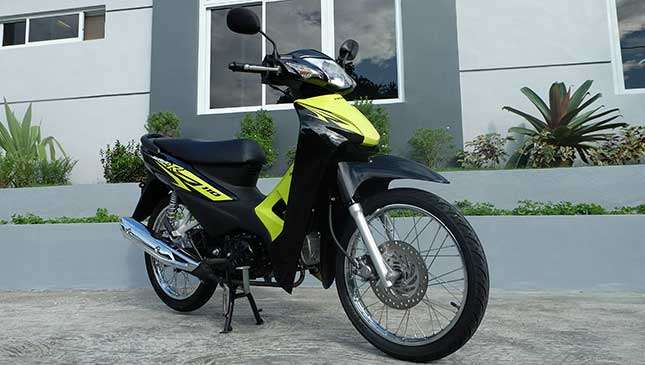 STYLING
As the design plainly reveals, the Wave 110R is more of a utility bike than a race-inspired machine. From the decals to the semi-body fairings, it's obvious that Honda designers applied a minimalist theme to this bike to cut costs.
The headlight and front cowl exudes a balance of simplicity and functionality, although the sharp-looking taillight with the integrated signal lights enhance the styling on the Wave's tail end. Overall it looks sleek with no protruding signal lights on both front and rear.
The instrument panel is purely analog. As you look closer and try touching the fairing and parts, the fit and finish is a reminder that Japanese quality is still superior.
SADDLE
Despite the cost-cutting measures, Honda didn't compromise the riding comfort of the Honda Wave. The wide, well-cushioned seat pampers rider and passenger on both city and out-of-town trips. When riding alone, the rider has lots of space to move around, relax and stretch a bit to enjoy the scenery better.
With a 30.1in seat height, my two daughters (both about five-feet tall) tiptoed on the Wave when they rode it around the village. It also has an underseat compartment that can be opened by turning the key counter clockwise on the ignition. However, the compartment offers limited space that cannot accommodate a helmet. It's only good enough to swallow basic tools and documents.
The passenger can also secure himself to the back of the rider by holding on to the sturdy rear handrail, and keeping his feet on the foot pegs.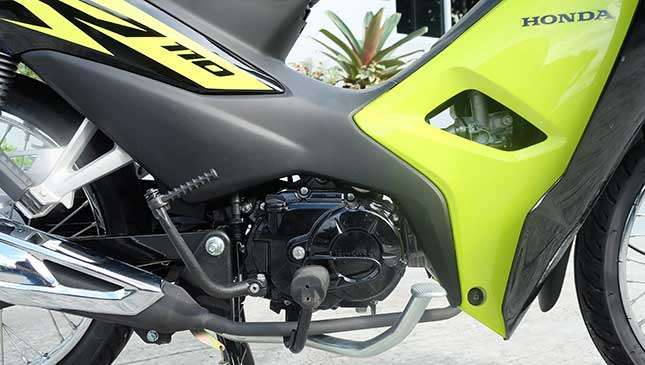 ENGINE PERFORMANCE
Powered by a 109cc, single-cylinder, SOHC, four-stroke engine, the Honda Wave's acceleration is subtle and steady. Its powerplant generates a modest 8.46hp, but puts out an impressive torque rating of 8.59Nm @ 5,500rpm—I've seen Wave motorcyles transformed into capable tricycles. Honda says it's Euro 3-compliant.
Matched with a four-speed transmission that needs neither clutching nor declutching, it is fun to ride on both short and medium distances. For long-distance rides, engine vibration tends to worsen as it increases speed. Gear shifting is also a bit jerky doing the four-up, four-down pattern.
Figure out how much money you can save from the Honda Wave 110R that averages 60km/L. Don't forget to include your parking savings in the computations.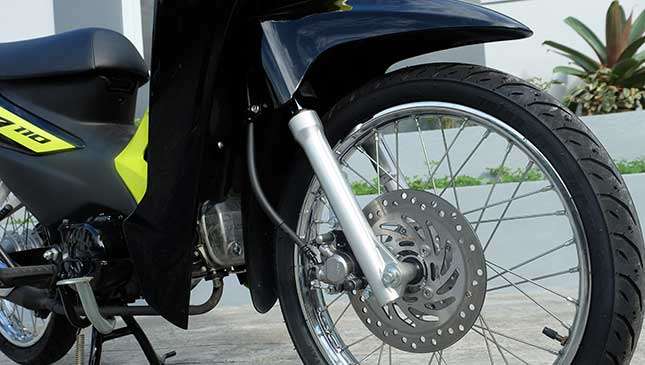 RIDE AND HANDLING
Firing up the Honda Wave 110 using its electronic starter takes only a few clicks before the bike comes to life. In case the battery is weak or dies, don't panic: It's equipped with the kickstart system as backup.
Ride this cub into the Metro Manila traffic without worrying about body ache. With the handlebar raised a few inches above the seat level, the rider position is relaxed. Having narrow dimensions and a short wheelbase, the Wave can easily squeeze in between traffic. The tires are 70/90-17 front and 80/90-17 in the rear, inflated with an inner tube, and mounted on traditional spoked wheels. 
There are two Honda Wave 110 variants: An 'R' model equipped with a front disc brake and rear drum brake, and a lower end trim with drum brakes for both. Consider safety when you think of the P4,000 price difference between the two.
The whole bike weighs only a little over 200lbs (dry weight) that two able-bodied persons can easily move to an adjacent parking slot—just be alert against motorcycle thieves.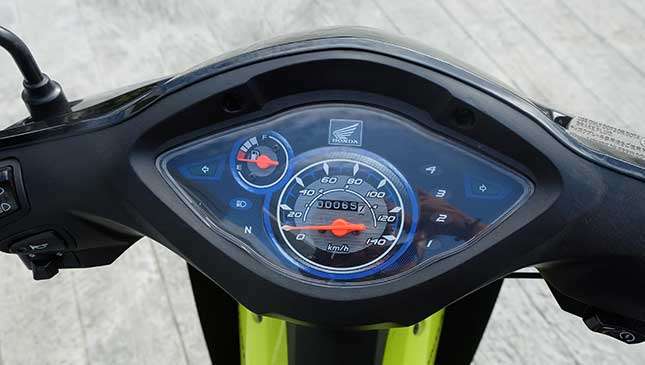 EXTRA FEATURES
A basic budget bike like this doesn't have a lot of add-ons. But when we talk about modifications, there are lots of possibilities. Many track enthusiasts transform this cub into a race bike by stripping it of body fairings and other parts like side mirrors, pegs, and the center stand to lessen its weight. Just remember to race on the track, not on the streets.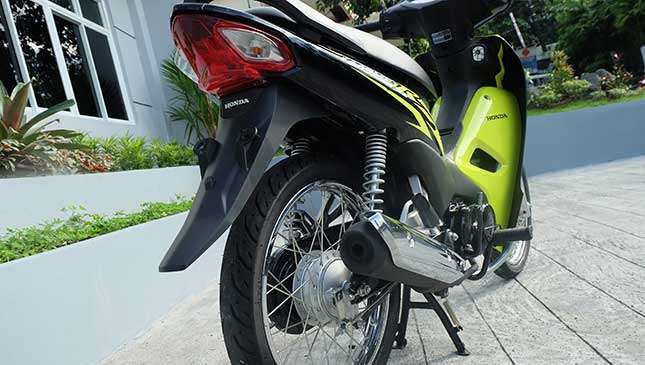 THE VERDICT
Although bare and simple, I still find the Honda Wave 110R a value-for-money proposition. Being affordable and dependable, this bike is ready to service its rider to the fullest—especially during difficult economic situations. 
SPECS: Honda Wave 110R
Engine: 109cc, 4-stroke, SOHC, air-cooled, single-cylinder
Power: 8hp @ 7,500rpm
Torque: 8.59Nm @ 5,500rpm
Transmission: 4-speed
Price: P60,900
Score: 12/20