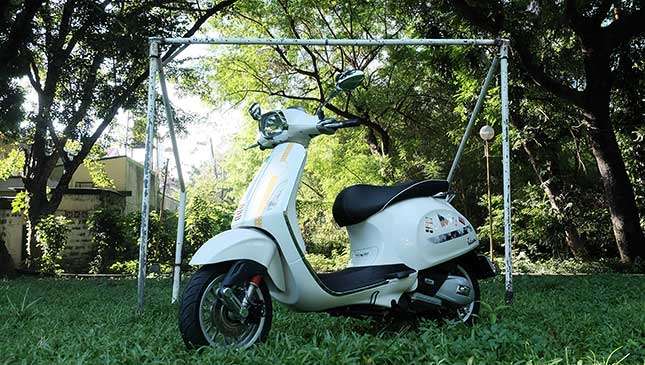 If you heard rumors about motorists experiencing neck pains as they pass by 5th Avenue in Bonifacio Global City, we may know the culprit. We suspect everyone is staring at the Vespa showroom while caught in a standstill.
With brand-new colorful Vespas sitting on top of makeshift platforms beside the showroom's glass walls, motorists can't help imagine themselves mounted on the awesome-looking scooters. While waiting for the cars to move, they envision themselves riding the Vespa while clad in their well-pressed business attires on their way to office.
Because they're convenient and stylish rides, MotoItalia Philippines says the modern Vespa AT scooters—especially the Sprint 150 seen here—are selling like hotcakes. Let's find out why.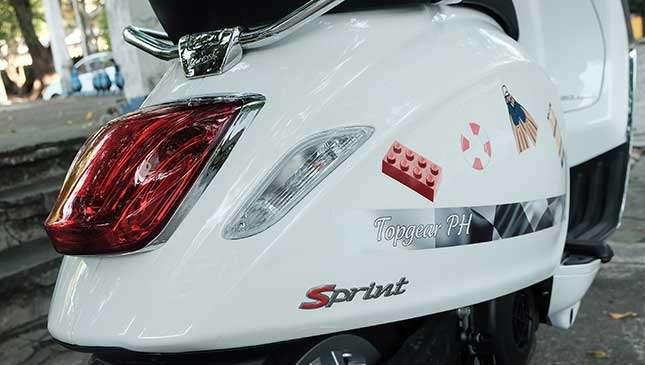 STYLING
By merely looking at this sporty version of the Primavera 150, a refreshing ride on charming European streets immediately comes to mind. The Vespa Sprint evokes class and sophistication. Its curvaceous body design and stylish chrome-laced components highlight the retro look, but are matched with a touch of modern amenities. The slender body structure is made of solid metal, the same way this famed Italian scooter manufacturer was built decades ago.
The round rear fenders and large front cowl that leads down the solid stepboard are very much Vespa. This latest 150cc variant is narrower compared to the previous ones. On the other hand, the square-design LED headlight, prominent taillight, analog-digital instrument gauges, and bigger alloy wheels highlight Vespa Sprint's neo styling.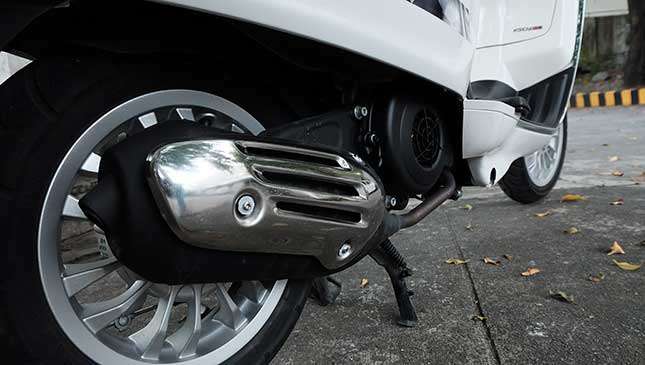 SADDLE
Another strong selling point of the Vespa Sprint 150 is riding comfort. In this aspect, none of its competitors comes close. With its wide, well-padded seats, the rider is pampered while squeezing the Vespa through traffic or during hours of out-of-town riding.
The modern Vespa has an upright riding position with the rider's feet placed firmly on the big step through the middle section. With its large, metal front fairing, my legs are kept secured not only from flying road debris, but also from raindrops when running at constant speed.
ADVERTISEMENT - CONTINUE READING BELOW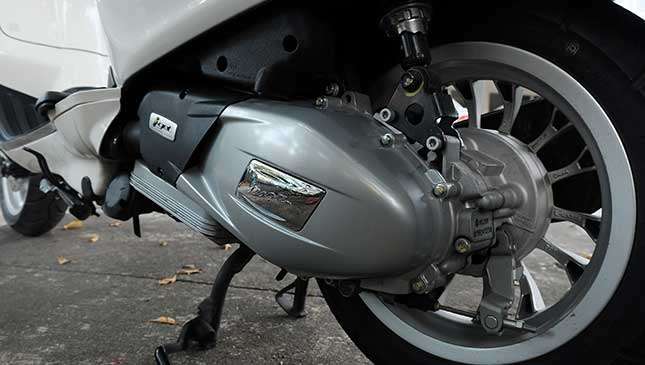 ENGINE PERFORMANCE
After testing the Vespa Sprint 150 in the streets of Metro Manila for a weekend, this proved that this European scooter has found its habitat. The 154.8cc, single cylinder, three-valve engine exuded finesse and grace in city traffic.
The new fuel-injected engine boasts of a three-valve layout which translates to more power and better fuel efficiency. Although air-cooled, the Sprint relies on a small fan to push air to the engine to keep it from overheating. Controlling the throttle response was easy while acceleration was smooth and linear with minimal vibration.
Vespa claims the Sprint 150 puts out 12hp @ 7,750rpm of maximum power and 12.4Nm @ 6,500rpm. With my 160lb frame on the saddle, the needle goes up to 100kph in full throttle. Equipped with a CVT, the Sprint's acceleration is seamless.
The Sprint 150 has grown in terms of safety features, now with ABS on its front disc brakes. However, it's still dependent on the cumbersome 140mm mechanical drum brakes at the rear for stopping power.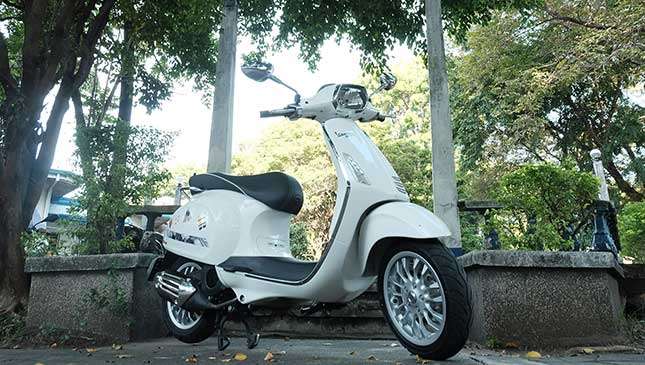 RIDE AND HANDLING
The front suspension uses a single-sided, trailing-link setup with a coilover monoshock that offers an uncomparably comfy ride. The rear suspension works with a coil spring with four settings of adjustable preload that gives 2.75in of travel. This sweet little ride glides over humps with ease. The brake levers are soft and easy to operate, making it user-friendly for lady riders. Unlike the Vespa PX, there Sprint has no clumsily-designed, long stemmed foot brake in the middle of the stepboard.
Even the back rider feels secure at the rear while holding on to the stylish chrome handlebar that's firmly attached to its body. Your passenger can always look forward to a safe joyride.
The best upgrade for the 2017 Vespa Sprint 150 are the stylish 12in alloys which keep this scooter more stable on varied road conditions. With a better grip on the asphalt, attacking corners with this small-bodied scooter is fun and exciting. The new alloys also add sporty appeal to the new Sprint 150. These instantly made the 10in blackened wheels of my 2013 Vespa S 150ie primitive-looking.
ADVERTISEMENT - CONTINUE READING BELOW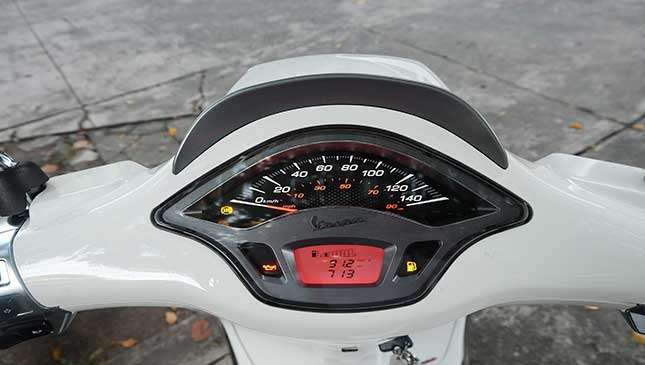 EXTRA FEATURES
The instrument panel boasts of a new avant-garde design with a combined analog speedometer and digital odometer, trip meter, and fuel gauge display.
Instead of the rubber strips, the Vespa Sprint now has a full rubber matting to protect the stepboard's paint cover. Even the locking system of the under-seat compartment has been integrated into the ignition for easier operation.
VERDICT
While it falls short of being a pocket rocket, the Vespa Sprint 150 provides a heavenly ride going to your school or workplace, or for short-distance errands.
It's so easy and light to maneuver, leaving its rider fresh and with extra energy upon touching down in his or her destination. More important, there's no neck pain.
Suprisingly, the Vespa Sprint 150 commands so much respect that even police officers let it pass through checkpoints. This happens often when the Sprint is shiny clean and with the rider clad in decent attire. By the way, have you ever heard of criminals riding a Vespa?
SPECS: VESPA SPRINT 150
Engine: 154.8cc air cooled, single-cylinder
Power: 12hp @ 7,750rpm
Torque: 12.7Nm @ 6,500rpm
Transmission: CVT
Price: P195,000
Score: 16/20