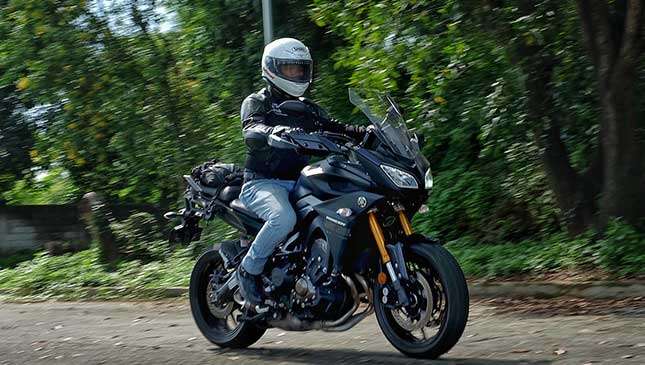 Platform sharing is one of the best engineering strategies that vehicle manufacturers employ these days. Using only a single chassis and one engine design principle, a carmaker builds three or more models, with each one sporting a different styling, character and purpose.
This strategy is used for building cars, SUVs and now, even motorcycles. The benefits are many, including decreased production cost and a wide array of exciting vehicle and motorcycle choices.
Take the success story of Yamaha's MT-07 and MT-09. From these two sport naked bikes, the Japanese motorcycle manufacturer cleverly stretched the production program to two more variants: the Scrambler and the Tracer.
Continue reading below ↓
Recommended Videos
Let's zero in on the Tracer 900, an awesome sport tourer that hit the local middleweight market like a storm.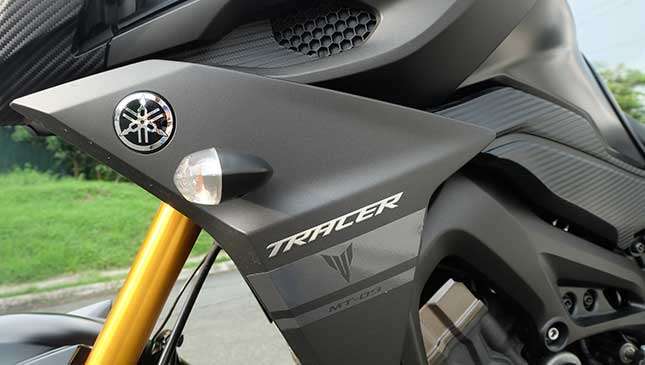 STYLING
The Yamaha Tracer 900 is sometimes pitched as an adventure bike. Its 4.5ft (or 1,372mm) height and 5.3-inch (134.62mm) ground clearance make riders think that this motorcycle is not only for long rides, but also for serious off-roading. Thus, they say it's an adventure bike.
The Tracer's features say otherwise. Its wide, chunky tires (120/70 R17 front and 180/55 R17 rear) adopted from the MT-09 sport naked are more suited on paved roads. They have less grip on loose surface. Also, the Transformers-inspired fascia bearing two LED lights puts more sport bike appeal rather than an off-road machine poised to attack mud or gravel.
Nonetheless, the Tracer 900 still has little traces of an adventure bike, like the long inverted fork, revised rear suspension, extended swing arm, and larger fuel tank. The tall, adjustable windscreen and awesome luggage options again suggest that it's ready for touring adventure.
Confused? Okay, just think of the Tracer 900 like a Bimbimbap, a Korean food made with neatly sliced veggies, rice, egg and beef. Its ingredients are just dumped into a frying pan and mixed without any sequence and coordination. Yet, it's very filling, and more important, it's nutritious and delicious.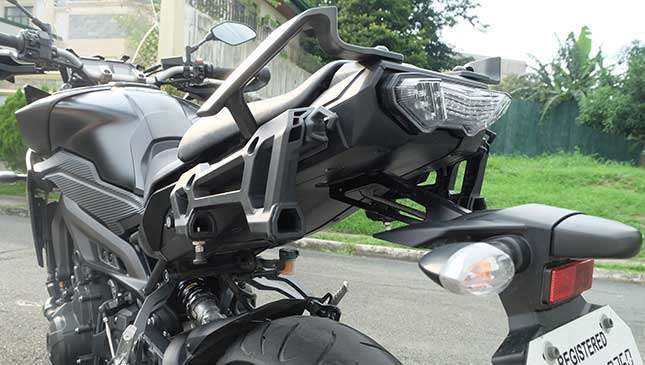 SADDLE
The towering seat height of the Tracer 900 will make an average Pinoy think twice before owning this bike. A rider must be at least 5'8" to set his feet firmly on the ground and safely put the bike to a halt.
If seat height is not an issue, every aspect of riding comfort and road handling will make the Tracer 900 very endearing. The well-cushioned seat pampers the rider on long rides, the foot pegs are neutrally positioned, and the rider posture is upright and relaxed.
With the solid grab rail and comfortably positioned rear pegs, even the passenger will love using the Tracer 900 for long rides. There's ample seat space for the back rider, too.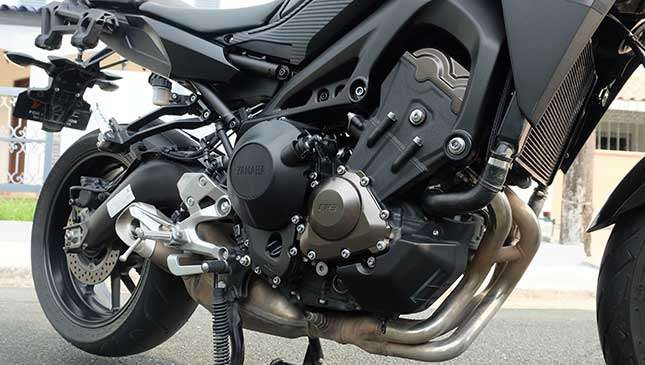 ENGINE PERFORMANCE
The MT-07, Scrambler and Tracer 900 sing almost the same note when it comes to engine performance. Powered by an 847cc, in-line three, four-stroke engine, the Tracer 900 sprints like the lightweight MT-09.
Even with the absence of a drive-by-wire throttle technology, power delivery is linear yet punchy. Throttle response can be electronically adjusted to the rider's preference, thanks to the Yamaha D-Mode that comes with three settings.
Its lightweight aluminum chassis contributes to its agility and nimbleness on the twisties. It's easy to flick side to side.
The Tracer 900 can easily put the needle to 240kph. However, the front wheel becomes lighter as I hit about 180kph. Then I was reminded that this in-line triple was born for a chill ride, not for top speed.
RIDE AND HANDLING
Touring bikes are notoriously heavy. When stuck in city traffic, riders will likely curse said motorcycles for they're top heavy and difficult to balance.
It's a different story with the Tracer 900. It's light to maneuver, so you can use it as a daily ride to the office, with or without traffic. Again, it misses another adventure bike trait--a wide handle bar--but this makes it easy to squeeze your way through traffic.
Rain or shine, this motorbike is fun to ride. It boasts a three-mode traction control system that adapts to the rider's riding mood. You have the option to switch it off.
Surprisingly, even the turning radius is smaller than I anticipated, making it easy to maneuver in between tight spots. Like the MT-09, the Tracer 900 is equipped with Assist & Slipper clutch technology, which eliminates sudden shock when downshifting.
The clutch and brake levers of the Tracer 900 are smooth and light to press. When stuck in gridlock, the its engine heat is more bearable than its counterparts. Thank heavens!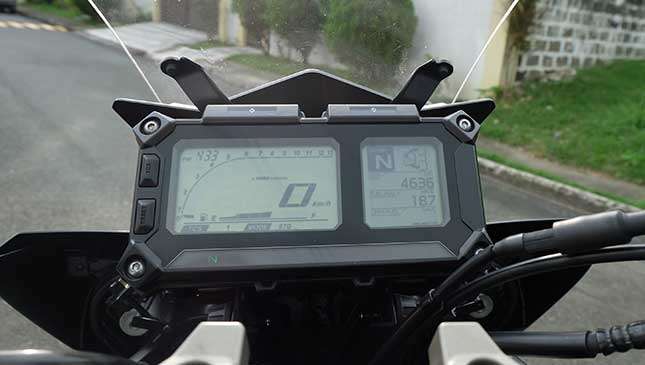 EXTRA FEATURES
Priced competitively, the Tracer 900 is loaded with functional amenities. Among them are the standard ABS, easy-to-read multi-function instrument panel, sturdy center stand, and a long-range 18-liter fuel tank.
The Tracer 900's high riding position gives the rider a good view of oncoming vehicles or road obstacles up ahead, especially when he's standing on the foot pegs.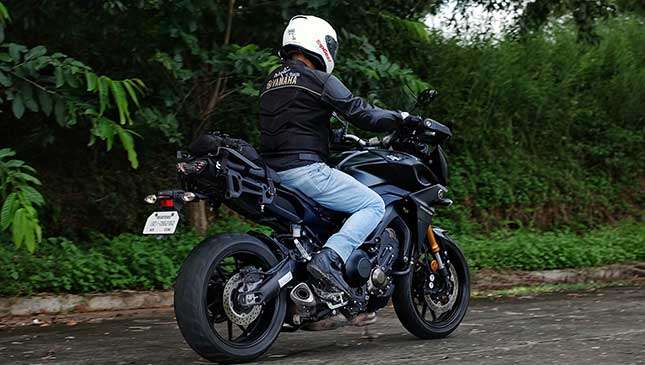 VERDICT
The Tracer 900 is more than just an adventure bike. Never mind if it falls short of becoming a full-blooded mountain beast, which many think it is. What counts is this middleweight bike that can perform a multitude of tasks, a big factor why the rider will surely enjoy it to the fullest.
With all the advanced features that Yamaha packed into this bike, it's good to know that it's also priced competitively. Now I understand why the other big bike brands are now jittery.
SPECS: YAMAHA TRACER 900
Engine: 847cc, 3-cylinder, in-line, DOHC
Power: 115hp @ 10,000rpm
Torque: 87Nm @ 8,500rpm
Transmission: Constant mesh, 6-speed
Final drive: Chain
Price: P589,000
Verdict: 17/20