Commuters today endure hours on the road, daily. I consider myself lucky since I live just 2km from where I work. If I had to go anywhere across town, it would mean sitting in my car for at least an hour over a distance I could easily cover, without traffic, in less than 30 minutes. We all have to make adjustments in our schedules. We wake up at unreasonable times and leave for work or school earlier. For those affected, commuting has become intolerable.
In recent years, I seldom drive my manual-transmission car. It was my daily beater for years, but traffic has made it cumbersome to pump the clutch and row through gears. It has gotten so bad that my short trips can take twice or thrice the usual 7 to 10 minutes. I'd be late for meetings and appointments if I failed to estimate travel time correctly, so I always plan my trips using Waze. Even with these life-changing adaptations, getting around the metro has become a time-consuming, resource-draining part of our day. I'd need to do more adjustments if I wanted to save precious time and money.
Years ago, I was a recreational rider. My steed of choice makes that obvious. I rode a two-stroke scooter that was excellent around town but could manage a longer range if pushed near its limits. I have in my garage a Vespa PX150E. A number of times, I had contemplated on using it for shorter commutes, or for meetings where car parking is a problem, but I couldn't be bothered to refresh and restart it. The unloved scoot sat on its centerstand, unregistered, for years. The sad story behind that is long enough for another article, I'm afraid.
Continue reading below ↓
Recommended Videos
A couple of months ago, a friend of mine won a Vespa S125 from a raffle. I knew he couldn't ride a bike to save his life, so I offered to buy it from him. I reckoned this was an opportunity to try commuting with a scooter and regain my enthusiasm for riding!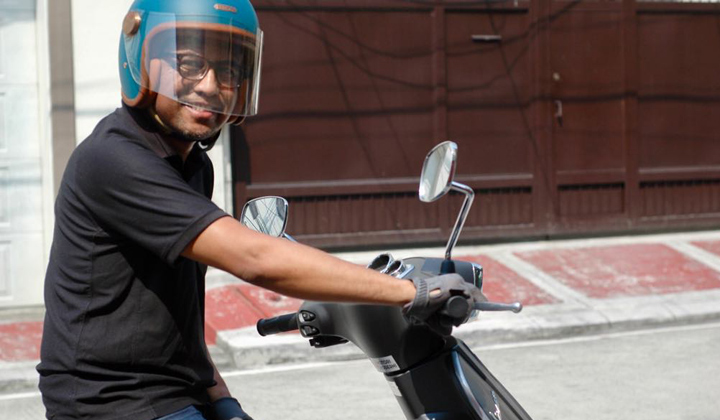 Getting back on the saddle, I felt enjoyment I didn't know I missed. It put me in a delightful contemplative mood, with clear-minded focus. When I was riding for fun, it was mostly solo or with a group of Vespa owners. Commuting exposed me to the wider local motorcycle culture, a fraction of the vehicle traffic I was insulated from behind my air-conditioned windows. Riders in general are friendly and rowdy, even overly chatty at times, but always ready to help others. After only a few hundred kilometers, I've already accumulated a lot of funny and a few sad anecdotes. I could not have experienced them from the solace of a car cabin.
Commuting on a scooter deprived me of a lot of the conveniences of driving a car. No air-conditioning, getting soaked when it rains, and mud-splashed, soot-covered clothes are unavoidable impracticalities. Low-cost vehicle maintenance, unbelievable fuel economy, and short travel times, however, more than make up for these. Being garbed from head to toe in stylish motorcycling apparel is just a bonus.
My teenage daughter seems to enjoy pillion riding, but not as much as dressing up for the occasion. After the basic tips and instructions, she rode calmly, and gathered confidence immediately. I doubt she'd allow me to bring her to or pick her up from school on a scooter, though.
To summarize: My driving time was reduced by more than half; I spend four to five times less on fuel; I meet friendly people every day while bunched up at intersections; parking is easy and cheap; I got an excuse to add cool duds to my wardrobe; and I've been accorded extra courtesy by a traffic enforcer, who mistook me for a celebrity. "Laging tandaan, ang buhay ay weather-weather lang!"
Every day now, I look at the sky and check the climate. I get excited if the forecast is "scooter weather."
NOTE: Raymond Figuerres is our new Moto Sapiens contributor. By profession, he is an anesthesiologist who responds to emergencies every now and then. Welcome to Top Gear PH, Doc!