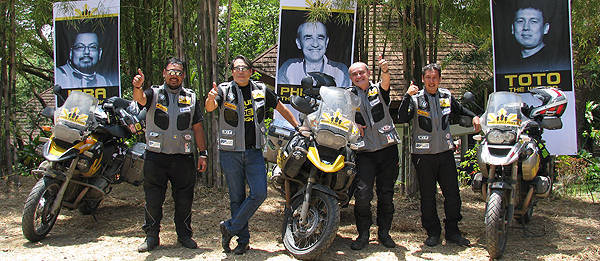 The 19-day nationwide Ride for Light motorcycle tour that kicked off last April 16 has successfully wrapped up and, in the process, exceeded its goal to provide solar-powered lanterns to 40 rural communities.
The three riders--rural electrification advocate Philippe Saubier, gadget fanatic Ibrahim Rasul-Bernardo and riding veteran Antonio Villanueva--rode around the country and to the finish line at the La MesaEcoPark on May 6. They were obviously tired but definitely triumphant after having covered over 6,600 kilometers of our country's road network.
"Riding for 19 days straight is no easy task, but to see the smiles on the faces of the communities we've helped, the people we've provided the solar home systems with, made everything worth it," said Rasul-Bernardo.
Although only 40 communities were the initial target for the tour, the group nearly doubled their initial goal with an additional 30 stops during the 19-day Ride for Light.
"When our Light Riders would ride into a community that's part of the tour, the locals would often say 'Maybe you can go the next community because they also need your solar home system' and of course, we'd accommodate them as much as we can," said Solar Energy Foundation (SEF) chairman Jaime Ayala. "That's how we ended up giving over 600 solar home systems to over 70 communities."
Continue reading below ↓
Recommended Videos
Ayala shared how the lives of the people in the communities they've helped have improved. A woman who raised chickens as her livelihood, for instance, used the solar-powered lantern to finally catch the snake that has been killing her chickens every night. Another example was a family whose kids used to study under a kerosene-powered lantern and complained that they didn't want to study anymore because the fumes of the lantern hurt their eyes have now taken back to studying diligently and are now honor students.
"It's through examples like these that we know the lives of Filipino communities who live off-the-grid can be greatly improved," shared Ayala.
Though the Ride for Light tour is over, the SEF still has a long way to go to provide solar-powered light to more off-the-grid communities.
"Over 60 percent of the Philippines still have no access to electricity. Thanks to our Ride for Light tour, we know that there's still a lot of work that needs to be done that's why we, together with our sponsors, are now getting ready to take our next step," Ayala added.
That next step is for the Hike for Light campaign in December followed by the Sail for Light tour in March 2012.
"For the Hike for Light, our team of mountaineers will simultaneously climb up the mountains in Luzon, Visayas and Mindanao to reach off-the-grid communities there that have never had electricity in their lives ever, and for the Sail for Light, we'll be going by boat to distant island communities in Palawan, Basilan, Jolo that also don't have access to electricity," said Ayala. "One peso is equal to one night of solar-powered light for a family so you can imagine just how easy it is to help the people who live in off-the-grid communities."
[gallery]909[gallery]