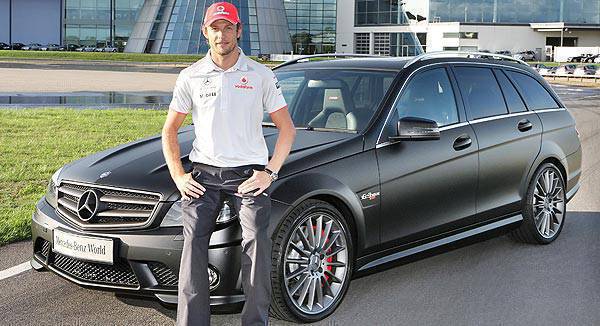 Formula One world champion for 2009 Jenson Button recently picked up a very limited-edition car to add to his collection--a Mercedes-Benz C-Class DR 520 Estate.

By very, we mean there are only 20 units of the DR 520s to be made and it can only be ordered from the Specialist Products Division of Mercedes-Benz World in Surrey, United Kingdom.

Button's new vehicle is based on the high-performance C 63 AMG but it is loaded with other features to set it apart from the regular production. The DR 520's engine, for instance, produces 520 horsepower, over 60 horses more than that produced by the standard C 63 AMG. This lets the Estate sprint from zero to 100 kilometers per hour in 4.2 seconds, with the car reaching an electronically-limited top speed of 301kph.

The DR 520 comes with an aggressive front fascia to distinguish it from the standard C-Class Estates. Complementing its performance-oriented design are the car's matte black body work and a leather-packed interior.

The C-Class DR 520 Estate is the latest of Button's automobile collection. At one time or another, the F1 world champion has had a Bugatti Veyron, a Mercedes-Benz CLK DTM AMG, a Ferrari Enzo, an Audi RS6 Avant, a BMW M5 and a Mercedes-Benz C63 AMG in his garage.
Continue reading below ↓
Recommended Videos