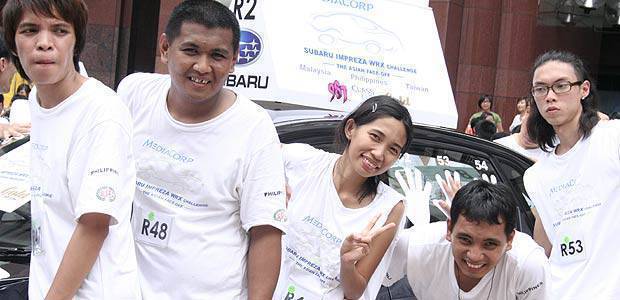 Three of the ten Filipino finalists remain standing in the ongoing Subaru Impreza Challenge in Singapore 48 hours into the competition.
The Filipino challengers are Apple Joy Lee Balibado (center in photo above), who bested about 70 contenders in the Manila leg in September; returning challenger Gerald Gonzaga; and Danilo Biadog, who lasted close to 29 hours during the qualifying round.
Balibado, without a doubt, is built of steel. She even manages to flash a smile despite the scorching heat and rain in Singapore. What makes the Subaru Impreza Challenge even more difficult for her is that the spot she is holding on to is on the rightmost-side of the windshield, an inch higher than her shoulder. She also needs to twist her arm a little to avoid contact with the metal part of the car as rules prohibit any part of the body touching the car other than the hand on each contestant's designated spot.
Continue reading below ↓
Recommended Videos
Aiming for the Subaru Impreza WRX with a positive vision, Balibado said her faith will pull her through. Her body might be frail-looking but her spirit is resilient, with muscles and all.
Meanwhile, Gonzaga said he will try to outlast and stay holding on to the Impreza for as long as he can despite having only three hours of sleep the day before the competition started. Perhaps he is drawing strength from adrenaline and perseverance.
Biadog, on the other hand, relies on his active lifestyle to give him all the endurance and stamina needed to succeed in the Subaru Impreza Challenge.
Motor Image Pilipinas marketing manager Ariel de Jesus said the Subaru Impreza Challenge Regional Finals is more difficult due to unpredictable weather conditions in Singapore.
From 400 contenders representing various countries in Southeast Asia, the Subaru Impreza Challenge competitors are down to 60 as of 2 p.m. November 2.