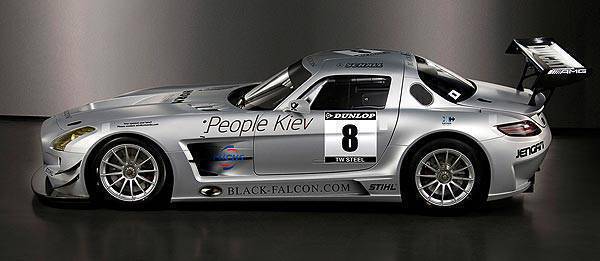 Mercedes-Benz will field three SLS AMG GT3s in the 24H Dubai race on January 2011 to complete the development program of the iconic gullwing model's racing variant.
The SLS AMGs will be entered by privateers Black Falcon and Heico Motorsport.
Development of the racing variant of the SLS AMG started in June 2010, with the test cars being entered in the Veranstaltergemeinschaft Langstreckenpokal Nürburgring (Association of Nürburgring Endurance Cup Organisers) ten-race series. In the ninth race, an SLS AMG GT3 run by Black Falcon took the checkered flag while a similar car run by the Mamerow Racing team finished third overall in the tenth race.
Production of the SLS AMG GT3s for customers started this December. After the Fédération Internationale de l'Automobile scrutinizes and defines the car's "Balance of Performace," Mercedes-Benz will begin delivering the SLS AMG GT3s to its customers at the end of February 2011. Each SLS AMG GT3 is being sold at €397,460 (more than P22.87 million at €1:P57.56). Wanna buy one?