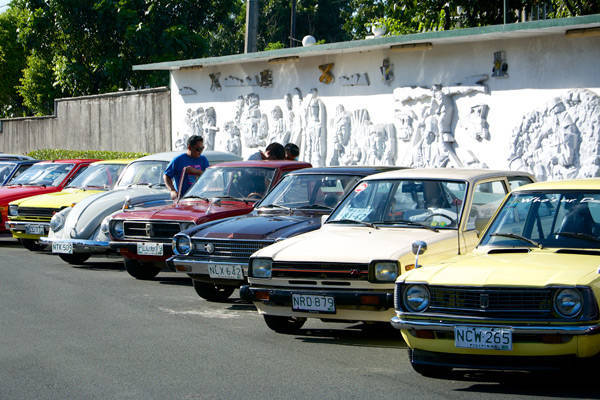 How do you define "old-school"? According to the entry form of the just-concluded joint-anniversary car show of Old School Pilipinas and Old Schooler Auto Club, old-school is "rear-wheel-drive, carbureted, 1987 or older."
Whether it was the free entry fee or the possibility of finding rare parts or just the chance to meet up with like-minded enthusiasts, a treasure trove of old-school cars turned up at the nostalgic celebration yesterday, November 25.
Organized by the two largest classic-car clubs in the country, the event served as a grand EB (Internet speak for gathering), swap meet and car show rolled into one. It was held on the sprawling grounds of the Philippine Army Grandstand in Fort Bonifacio, Taguig City.
With Aguila Auto Glass sponsoring the trophies, a number of classic Japanese, American and European car collectors turned up to show off their vehicles to fellow car aficionados.
According to Manny Martinez, one of the founding members of Old Schooler Auto Club, more than 250 cars were in attendance, one of the largest assemblies of classic-car enthusiasts to date. Martinez brought his pristine 1976 KE30 Toyota Corolla, which was featured in Top Gear Philippines' June 2012 issue.
With cars literally stretching as far as the eye could see, one would be hard-pressed to pick just one from the lot. Here are the results of the car show, followed by the best photos from the meet.
Continue reading below ↓
Recommended Videos
CAR SHOW RESULTS:
Best '70s Mitsubishi - Kevin Musngi ('79 Lancer)
Best '80s Mitsubishi - Reggie Policarpio ('80 Mirage)
Best '70s Toyota - Joey Gatan ('72 Sprinter)
Best '80s Toyota - Jojo Coloma ('82 Silver Edition Corona)
Best Datsun - Richard Opiana (Sunny Pickup)
Best Euro Classic - Toti Salvador (1982 BMW 518)
Best American Classic - Obet Roldan (Ford Mexico)
Old School Car of the Year - Atong Ko ('69 Sprinter)
Best Car Club - Classic Auto Club
Photos by Robert Serrano