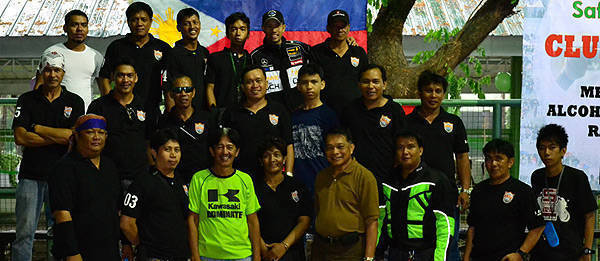 Safe-T-Ryders is reaching out to motorcycle riders in the northern part of Metro Manila as it brings the third staging of Bikers' Meet-Up to the Malabon Amphitheater on May 20.
Hosted by the Malabon-based Underbone Fury Riders Club, the third Bikers' Meet-Up will be held as part of Araw ng Malabon celebrations and will bring together local bike riders "for an afternoon of fun and learning."
To promote greater awareness among the general public and motorcycle riders in particular, Safe-T-Ryders is conducting Bikers' Club Meet-Up to engage organized bikers to take an active part in the promotion of road safety and the reduction of road mishaps.
In previous Meet-Ups, former LTO chief and current Philippine Global Road Safety Program executive director Alberto Suansing exchanged views with members of various motorcycle clubs on issues and matters affecting them in their daily commute. Safe-T-Ryders instructors also conducted a demonstration of the 'Fatal Vision' goggles to emphasize the very damaging effects of riding under the influence of alcohol.
"The Club Meet-Up program is part of our advocacy to engage bikers' club members in the active campaign to multiply the number of responsible and disciplined bikers," said Safe-T-Ryders founder Arnel Doria. "This will be a continuing program for Safe-T-Ryders Training Center and we invite corporate partners to join us in this road safety advocacy."
Continue reading below ↓
Recommended Videos
The Bikers' Meet-Up is open to bike-club members and individual riders. Interested participants are requested to pre-register and reserve a slot. Attendance is free of charge to qualified participants. For more information, you may contact Safe-T-Ryders at (02) 208-8035 or 0932-872-3389. You may also check its Facebook page at www.facebook.com/safetryders.