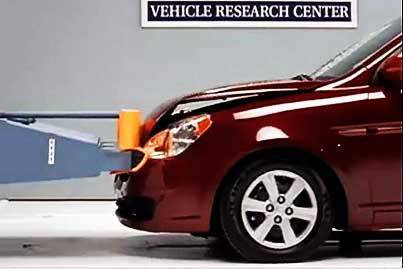 If you saved some cash for getting a micro car instead your ultimate dream car, you might consider putting the money back in the bank for safekeeping.

Five of the seven micro and mini cars tested by the Insurance Institute for Highway Safety (IIHS) rated poorly in its recent bumper performance test. This means more costly repairs for the damaged units.

Of the five cars, four are sold in the Philippines: the Toyota Yaris, Honda Fit (locally sold as the Jazz), Hyundai Accent, and Kia Rio. The fifth car - the Mini Cooper - will soon be available in the country.

The Chevrolet Aveo, which is also sold in the Philippines, received a "marginal" rating, while the Smart Fortwo got an "acceptable" mark.

Tests were conducted with the cars running at a low speed for full front, corner front, full rear and corner rear crashes.

Ratings were given based on the cost to repair the damage on the cars tested by the IIHS.

"Bumpers can be designed so there's no damage in these low-speed impacts/ At a minimum, repairs should cost less than the typical insurance deductible for a collision," IIHS senior vice president Joe Nolan said.
ADVERTISEMENT - CONTINUE READING BELOW ↓
ADVERTISEMENT - CONTINUE READING BELOW ↓
Recommended Videos