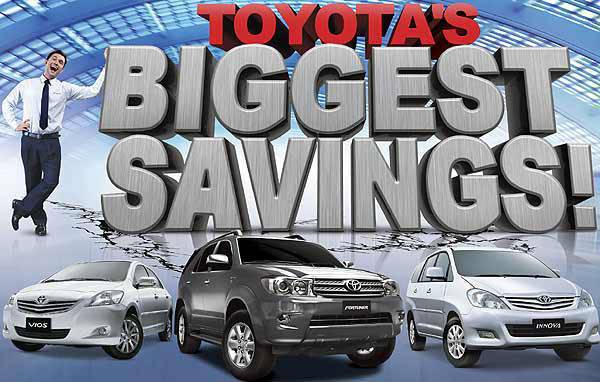 Toyota Motor Philippines is extending its Biggest Savings promo until July 31 after a successful run in June.
Customers can choose to "Pay Low" through Toyota Financial Services lease-to-own plan, with down payments of as low as P65, 000 for the 1.3 Vios E with manual transmission, P79, 000 for gasoline-powered Innova J and P134,000 for the diesel-fed Fortuner 4x2 G with manual transmission. In addition, customers are also entitled to free one-year comprehensive insurance, free three-year LTO registration, and free chattel mortgage fee.
In Toyota's "Pay Light" promo, a 50-percent down-payment lets customers take home the three aforementioned vehicles in installments of up to 72 months, with the Vios at P6,400, the Innova at P7,400, and the Fortuner at P14,000 per month. Zero-percent interest payment for up to 18 months is also available for selected variants.
Toyota's "Pay Cash" promo, meanwhile, allows customers to avail of savings of P30,000 for the Vios, P40,000 for the Innova, and up to P80,000 for the Fortuner.
There's also the "Pay Later" package that makes customers start their monthly installment 90 days after they put a 10-percent down-payment for their brand-new Toyota.
The "Pay Light", "Pay Low" and "Pay Later" promos are all subject to the credit approval of Toyota Financial Services.
Continue reading below ↓
Recommended Videos