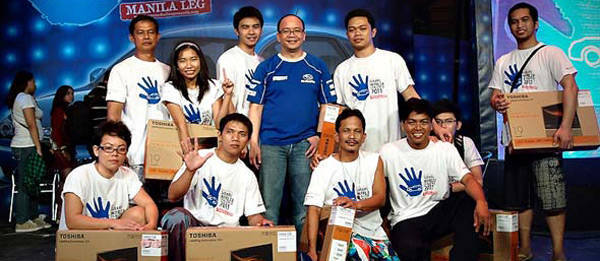 An administrative assistant from Marikina bested 71 other contestants over the course of 12 hours to win the Manila Leg of the 2011 Subaru Impreza Challenge.
This year's top qualifier, Robert Ocampo and nine other finalists will be sent by Motor Image Pilipinas, the exclusive distributor of Subaru vehicles in the Philippines, on an all-expense paid trip to Singapore on October 29 to November 2 as part of the Philippine contingent which will vie for the chance to win a brand new Subaru Impreza 2.0AT. They also took home a 19-inch Toshiba Power TV LCD each for their efforts while the final three won cash prizes to boot.
Now on its fourth year, the Manila Leg was concluded at the Eastwood City Central Plaza last August 20th. As in previous years, challengers were required to keep their right hands on palm decals positioned around various portions of Subaru Impreza cars. With only five-minute breaks every six hours, the participant who keeps his or her hand the longest on the assigned decal wins the challenge.
This year however, the event only lasted for one day as the final top ten was determined after 12 hours and 36 minutes from the time the endurance contest started.
Continue reading below ↓
Recommended Videos
Additional physical and psychological challenges were introduced during the event to accelerate the trimming down of the number of participants. They were made to hold up water bottles with their free hand while raising their left legs. Tethered bananas were likewise given to the participants who were tasked to keep them off the ground. And all this was happening while the motoring media band Shift and True Faith entertained the crowd that gathered to watch the challenge.
Nicky Mariano, General Manager of Motor Image Pilipinas, says this year's Manila qualifier was concluded in the same day to allow the participants more time to rest and prepare for the Singapore main event where hundreds of other challengers from different Asian countries will be competing for the grand prize. Though the Philippine Team brought home the Country Team award in 2010 for being the best non-Singaporean contingent in the challenge, Mariano is looking forward to having a Filipino outlast everyone and win the car. Last year's Subaru Impreza Challenge winner Aloysius Lim, a 46-year old technician from Singapore, kept his palm on the car for 75 hours and 17 minutes.
A notable entry in this year's local Subaru Impreza Challenge is Apple Balibado, the 2009 and 2010 Manila leg winner. She wisely finished her stint in ninth, just to secure another chance to join the Singapore finals.
Here are the Top 10 Manila Leg Winners who will compete in the 2011 Subaru Impreza Challenge in Singapore:

1. Robert Ocampo
2. Edgardo Marcos
3. Anna Carizo
4. Roberto Tomas
5. Danilo Biadog
6. Rey Pizana
7. Carlo Garcia
8. Alex Neblasca
9. Apple Balibado
10. Kris Uy
[gallery]1010[gallery]