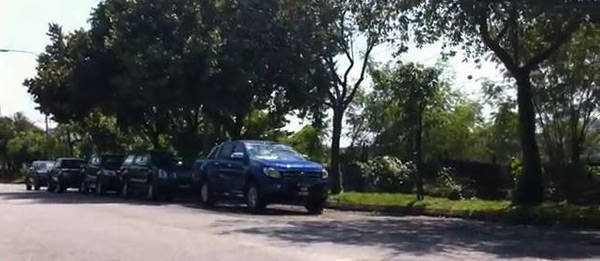 In 2011, Ford released a video that showed the all-new Ranger's towing capability by pulling a 160-ton steam locomotive out of its shed. As amazing as that seems, it's unfortunate that we can only imagine just how heavy that feels like. Well, Ford is showing us again what it can do. This time, it's pulling something whose weight we can at least estimate--four of its competitors' pickup trucks.
We don't know if this in a viral marking stunt by Ford or if it was actually caught on film by a innocent motorist who was just having some fun behind the wheel of his Proton Satria Neo. Either way, what we do know is that it shows the all-new Ford Ranger towing the current-generation (at least in our market) Isuzu D-Max, followed by a Toyota Hilux and a Mitsubishi Strada. Perhaps serving as a homage, bringing up the tail of the five-pickup convoy is the previous-generation Ranger.
This may be something we'd consider doing once we get our hands on the all-new Ranger. What do you guys think?
If you're viewing this on a mobile device and can't see the video, please click here.
Continue reading below ↓
Recommended Videos