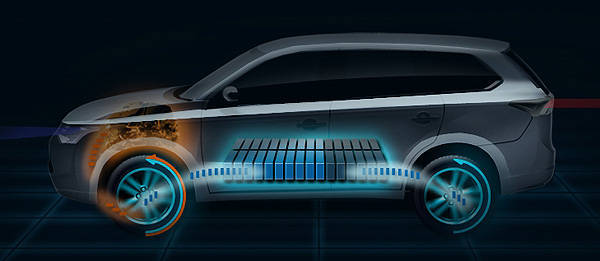 Although the all-new Mitsubishi Outlander will be launched globally later this year, the Japanese carmaker still isn't done with its crossover SUV as it will launch a plug-in hybrid version of it in Europe in 2013.
To debut at the 2012 Paris Motor Show this September, the Outlander plug-in hybrid electric vehicle (PHEV), Mitsubishi claims, is "neither a mere adaptation of an existing internal combustion engine (ICE)-powered vehicle nor a dedicated plug-in hybrid technology showcase."
Instead, the Outlander PHEV will supposedly share its architecture with the soon-to-be-introduced Outlander's ICE versions. This reportedly will make it as the first production car from a major manufacturer to be assembled from the start with built-in provisions for either ICE or PHEV powertrains, something which Mitsubishi says is "an engineering feat in itself."
According to Mitsubishi, the Outlander PHEV will be an EV-based vehicle that will be supplemented by a gasoline engine when needed, a solution that the carmaker claims is more suited to global markets than diesel. It will also be the first permanent 4WD electric car in series production, thanks to Mitsubishi's renowned four-wheel-drive experience.
ADVERTISEMENT - CONTINUE READING BELOW ↓
The Outlander PHEV utilizes a unique drivetrain combination of front and rear electric motors coupled with a front traction/generator gasoline engine. This supposedly gives the vehicle three driving modes: Pure (twin-motor 4WD EV); Series (twin-Motor 4WD EV supported by a generator); and Parallel (ICE engine supported by twin-motor 4WD).
ADVERTISEMENT - CONTINUE READING BELOW ↓
Recommended Videos
In the all-new Outlander, the Mitsubishi plug-in hybrid system gives it a long range of 800km and very low carbon dioxide emissions of below 50g/km equivalent to that of its Concept PX-MiEV II show car.