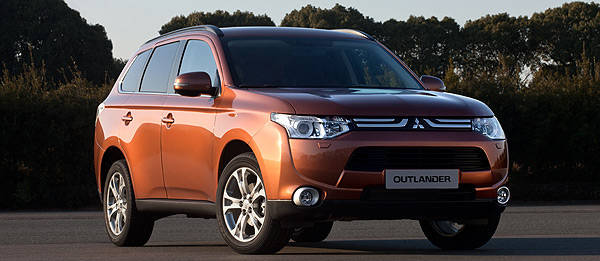 It looks like we were right after all. Barely a month after Mitsubishi announced that it will launch an all-new vehicle at the Geneva Motor Show, the Japanese carmaker revealed it's no other than the next-generation Outlander midsize crossover.
Calling it "a strategic and innovative premium vehicle of substance developed around a versatile global platform," the all-new Outlander boasts low environmental impact, with carbon-dioxide emission levels eyed at under 130g/km, thanks to its Auto Stop&Go idle-stop system, its optimized body structure that resulted in a much lighter body, its use of high-tensile strength paneling and its improved aerodynamics. As part of its novel technical package, the Outlander will also be equipped with an "eco-friendly driving system" that notifies the driver when he or she is driving at maximum efficiency.
At launch, the Outlander will be offered with two low-impact engines in both two-wheel- and four-wheel-drive variants; a 2.0-liter, in-line-four MIVEC gasoline-fed powerplant or a 2.2-liter in-line-four, turbocharged MIVEC diesel mill. To be paired with the two engines is an all-new six-speed automatic gearbox.
Similar in size to the current Outlander, the all-new model bears a solid, safe and simple shape that blends its substantial look with its clean surfaces. According to Mitsubishi, the same uncluttered look continues inside with the glossy black instrument panel, silver accented switches and the use of soft-touch dashboard trim material.
The next-generation Outlander also features ergonomic steering wheel controls as well as high-resolution and easy-to-read instrument displays. Its second- and third-row seats can also be configured easily to provide a number of seating patterns as well as create a long luggage space with a flat floor while a power-operated tailgate facilitates easier loading and unloading of cargo.
The all-new Outlander will first be launched in Russia later this year, after which it will make its debut in Europe, Japan, Oceania, China and North America.