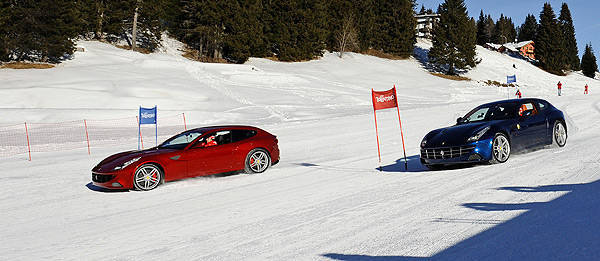 With the 2012 Formula 1 season still a few months away, Ferrari drivers Fernando Alonso and Felipe Massa are busy doing promotional work for the Italian brand's road cars.
The most recent activity saw the two drivers on the snow-capped mountains of Madonna di Campiglio, one of Italy's top ski resorts. Although the resort is more used to hosting alpine skiing champions for World Cup downhill races, its slopes became the venue to a most unusual parallel slalom race as Alonso and Massa went head-to-head behind the wheel of two of Ferrari's revolutionary four-seater, four-wheel-drive grand tourer--the FF.
Although both drivers hone their skills in the world's fastest road circuits, in their hands, the latest Ferrari proved to be very entertaining on demanding hills both up and down, as well as in endless changes of direction laid out on the downhill slalom course.
"It's incredible how easy it is to drive the FF even on a such a demanding surface and at the same time, how high a performance level you can reach in it," said the two-time world champion Alonso.
Massa concurred, saying that the most incredible thing about the FF is that "there is no need to compromise maximum performance and useability, whatever the driving environment."
Continue reading below ↓
Recommended Videos
If you're viewing this on a mobile device and can't see the video, please click here.