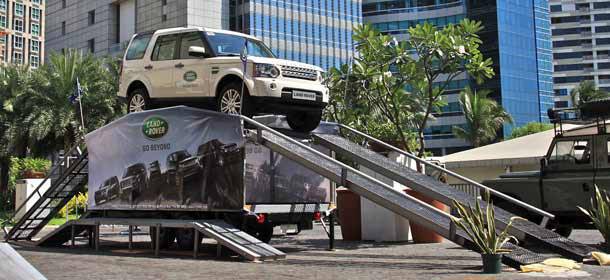 Many of us can only dream of riding high-end sport-utility vehicles, while some wish they could experience going through a hardcore off-road track. Now imagine if you can ride the best SUVs in the world and be treated to a technically challenging off-road course at the same time--for free.
LRPhils Motors, the exclusive distributor of Land Rover vehicles in the country, is making this rare experience possible by constructing the so-called Terrapod and making it available to the public. "The Terrapod is a mobile off-road track that showcases the breadth and depth of Land Rover vehicles in a safe and controlled environment," explains LRPhils executive director Marc Soong. "It's based on the design of the original Terrapod in the UK and has been engineered here."
Continue reading below ↓
Recommended Videos
The Terrapod features four obstacles: the "slide slope," which is essentially a 25-degree embankment; the "walking holes," which demonstrate Land Rover vehicles' impressive ability to distribute engine power to the wheels with the most traction; the "up and over," a combination of a 30-degree ascent and a 30-degree descent; and the "seesaw," a swinging plank that tests a vehicle's chassis strength and balance.
"We always talk about what our cars can do," says Soong. "The Terrapod brings the experience of Land Rover's off-road supremacy to everyone."
Those who wish to try this off-road "theme park" may visit the Land Rover Terrapod on March 27 and 28 at Rockwell Plaza's parking area, just outside the Power Plant Mall, in Makati City.
Aside from the chance to ride the entire Land Rover product fleet--Freelander, Defender, Discovery, Range Rover Sport and Range Rover--around the Terrapod, you'll also get to see the newest Land Rover models to be sold in the local market, the 2010 Range Rover and the new Discovery 4.
For those of you who cannot make it this weekend, you may experience the Land Rover Terrapod in the upcoming Manila International Auto Show on April 15 to 18 at the World Trade Center in Pasay City.
Perhaps a ride around the Terrapod will make you know the answer to Marc Soong's question: "Why get a car when you can get a Land Rover?" Of course, that's assuming you can afford one in the first place.