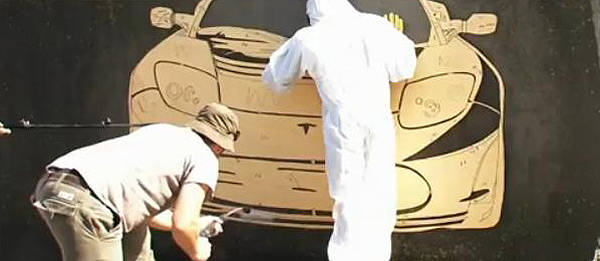 Armed with a high-pressure power washer, a large stencil design made out of wood and a wall that's been darkened by pollution through the years, artist Moose Curtis is creating a different kind of artwork with designs that are based on cars.
Calling himself a "green" artist, Curtis created artworks based on environment-friendly cars like a Tesla Roadster, a BMW i3 Concept and a Renault Twizy Concept.
Curtis first creates a stencil design of the vehicles on a sheet of wood. Using pollution as "his medium," Curtis then locates a wall to place the stencil on and, with his high-pressure power washer, he then creates his style of artwork that he likes to call as "grime writing".
With the wooden sheet covering the dirty parts of the wall, Curtis focuses the power washer's nozzle on the exposed parts of the stencil to wash away layers and layers of dirt and grime to come up with his completed artwork.
"This process is as much about cleaning as showing people how dirty the world is," Curtis said in an interview.
Oddly enough, according to Curtis, the hard part with his kind of art is not with coming up with the design or crafting them on the sheet of wood but finding a wall whose owner will give Curtis and his crew the permission to create his designs.
Continue reading below ↓
Recommended Videos
"We've struggled all the time to find people who would allow us to clean their wall which is as crazy as it sounds," said Curtis. "You're offering to clean somebody's wall and they don't want you to because they like how the dirt is on their wall, I guess."
Maybe the Metropolitan Manila Development Authority could learn from Curtis and create something similar to the walls along EDSA.