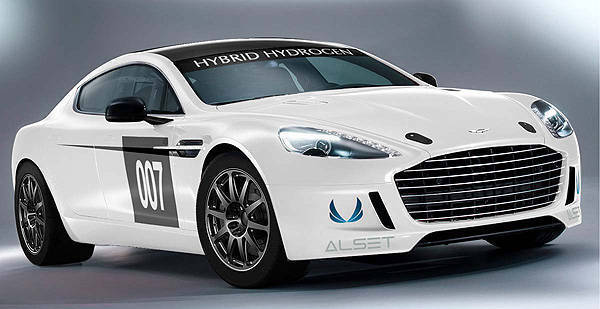 Aston Martin will be entering the record books when it runs at the 41st 24 Hours of Nurburgring in May, fielding in a hybrid hydrogen race car based on the Rapide S. Working in partnership with hydrogen experts Alset Global, Aston Martin's engineers developed a prototype twin-turbocharged 6.0-liter V12 engine that will power the Nurburgring race car.
Capable of running on pure gasoline, pure gaseous hydrogen, or a blend of both, the Hybrid Hydrogen Rapide S race car "showcases Aston Martin's commitment to engineering innovation." With a pure hydrogen mode, Aston Martin and Alset Global hope to show that a zero-carbon-dioxide-emissions lap of the Nordschleife is possible while emitting only water from the exhaust.
According to Aston Martin, the hydrogen is stored in four ultra-high-strength carbon-fiber tanks that hold a total of 3.5kg of the colorless and highly flammable gas, with two tanks housed next to the driver and the other two in the trunk of the car.
ADVERTISEMENT - CONTINUE READING BELOW ↓
"Aston Martin has a strong track record of innovation, and with our superb history of competition and testing at the Nurburgring, it is only right that we showcase this amazing new technology at this year's 24-hour race," said Aston Martin chief executive Ulrich Bez. "Working with Alset Global to unveil this system in such a challenging environment as the 24 Hours of Nurburgring shows once again how confident we are in our cars, our people and our partners."
ADVERTISEMENT - CONTINUE READING BELOW ↓
Recommended Videos