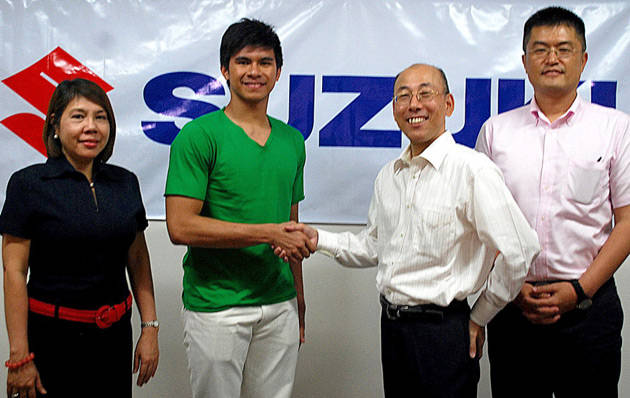 We miss the days when basketball stars endorsed passenger cars. You know, like Robert Jaworski vouching for Toyota's Macho Machine. Or, if you're too young to remember that, like Blake Griffin selling the Kia Optima. Thankfully, Suzuki Philippines recognizes the powerful link between basketball--especially in the Philippines--and commerce. Hence, the Japanese carmaker has hired Ateneo Blue Eagle Kiefer Ravena to help promote its cars to his adoring (and swooning) fans. Which makes sense since Suzuki has several models targeted at the younger slice of the car-buying public: the Alto, the Dzire and the Swift.
"Bringing in Kiefer to the driver's seat, Suzuki aims to tap the young and active market and introduce them to the elegant form, powerful engine, confidence-inspiring feel, and uncompromised safety and comfort that Suzuki automobiles offer," said the press statement sent to us.
The photo above shows the basketball star with Suzuki Philippines managing director Catalina Calderon, president Satoshi Uchida, and general manager for automobiles Shuzo Hoshikura.
"We are very happy to welcome Kiefer to our Suzuki family," said Uchida. "With his impressive performance in basketball leagues such as the UAAP, he has demonstrated the passion, drive, and commitment to excellence reflected by each of our car models. We believe that Kiefer could best embody our 'Way of Life' brand philosophy."
We don't question this marketing move. We think it's brilliant. Our question is: Why is Kiefer wearing green?
ADVERTISEMENT - CONTINUE READING BELOW ↓