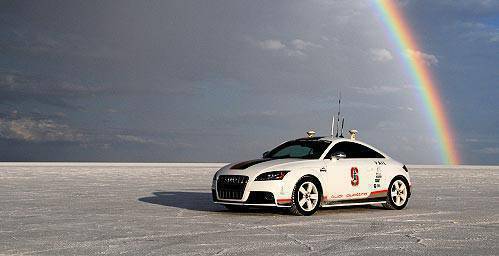 Audi has successfully tackled a hill climb course that allowed it to reach a 14,110-foot summit--without a driver.
While Audi's time at the Pikes Peak International Hill Climb course with a TTS was a slow 27-minute run compared to the current record 10 minutes and 01.408 seconds, the carmaker obviously made history in America's second oldest race. An expert race car driver can finish the course in around 17 minutes, race officials said.
Jointly developed by Audi, Stanford University, the Volkswagen Group Electronics Research Lab in Palo Alto, California, and Oracle, the autonomous Audi TTS Pikes Peak drove the nearly 20-kilometer long rally race route nonstop. On the last remaining dirt section, which tested the car's high-speed handling, the car reached speeds of over 72kph.
"We are not trying to replace the driver," said Professor Chris Gerdes of Stanford University, "Instead we want to learn how the best drivers control the car so we can develop systems that assist our robotic driver and, eventually, you and me."
Sounds like some cool technology but, tell us, would you really want your car to go off without you?
Continue reading below ↓
Recommended Videos