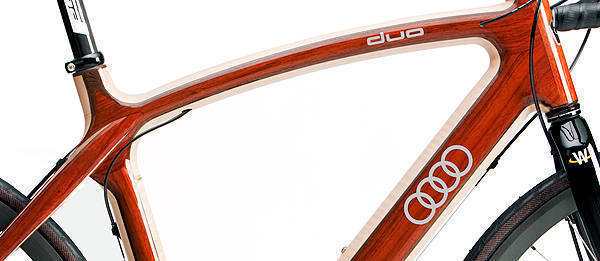 Audi, the German carmaker that takes pride in its "Vorsprung durch Technik" or "Progress through Technology" motto, has teamed up with the world's only all-hardwood bike manufacturer to create the duo--an Audi-inspired bicycle series that combines both luxury and performance.
Created in partnership with Renovo Hardwood Bicycles, the duo features a monocoque hardwood frame that, according to Audi, "offers the smoothest ride of any bike frame material thanks to its superior ability to absorb shock and vibration." In addition, since the German carmaker claims that the weight per cubic inch of wood is roughly one-fourth the weight of aluminum, the duo is "lighter than most bicycle frames while offering equal or even superior stiffness, durability, and toughness."
The duo also reflects Audi's commitment to sustainability as the bicycles are recyclable and biodegradable.
As a dig at other carmakers that have launched their own bicycles, Audi claims to be the first car manufacturer to offer a bicycle that isn't simply a design exercise or "a mere rebadging of a commonplace bicycle," but as "an embodiment of its core principles of progressive innovation that also blends craftsmanship and styling with performance and technology."
The duo series of bicycles features innovative drive train components such as a belt drive, aluminum and carbon fiber components, disk brakes and LED lighting. The types of wood used to create the bicycles have also been carefully selected to match the look of Audi's vehicle interiors and are individually handmade at Renovo's Portland, Oregon studio.
Continue reading below ↓
Recommended Videos
The bicycles are available in three models to suit different riding styles and needs. These are:

The duo City. A cafe/leisure bike, urban explorer and all-weather commuter, the duo City is the most appropriate bike for casual cyclists. Features include an upright position for short distances, wide puncture-resistant 32mm tires, LED lights, fenders and a rack. The duo City's drivetrain has a smooth, quiet and grease-free Gates CenterTrack belt drive coupled to the Shimano Nexus 8-speed internal hub gear for effortless and maintenance-free shifting.
The duo Sport. A fitness, long-distance all-weather commuter, the duo Sport is perfect for cyclists seeking long-distance comfort and safety. The duo Sport drivetrain features the smooth, quiet and grease-free Gates CenterTrack belt drive coupled to the Shimano Alfine 11-speed internal gear hub, for effortless and maintenance-free shifting. Other features include drop bars for long distance riding, minimum fenders, medium width and puncture-resistant 28mm tires for less rolling resistance.
The duo Road. A performance road bike, the duo Road is good for club and century rides. Features include narrow tires, minimal accessories and an SRAM Red, compact 20-speed gear train.
The prices of the Audi duo series of bicycles range from $6,530 (P283,502 at $1:P43.415) for the duo City to $7,460 (P323,878) for the duo Road.
[gallery]858[gallery]