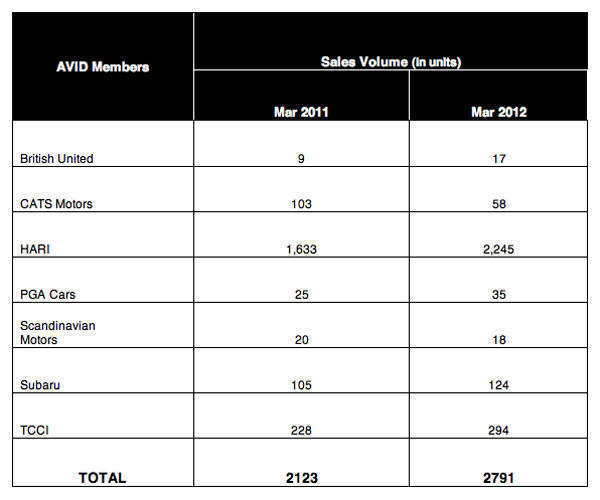 The Association of Vehicle Importers and Distributors (AVID)--the rival industry organization of the Chamber of Automotive Manufacturers of the Philippines--has released the latest sales report from its members. According to the group, its members sold a total of 2,791 units in March, a 31-percent increase compared to March 2011. This brings AVID members' year-to-date (January to March) total to 8,298 units, a 38-percent growth versus the same period last year.
The table above shows that most AVID members sold more units last month than it did last year. This includes British United Automobiles (Mini), HARI (Hyundai), PGA Cars (Audi, Porsche and Lamborghini), Motor Image Pilipinas (Subaru) and TCCCI (Chevrolet). Only CATS Motors (Mercedes-Benz and Chrysler/Dodge/Jeep) and Scandinavian Motors (Volvo) sold fewer units in March versus 2011.
Three quick notes:
* The current list of members is decidedly shorter than the one on the group's official website, which also includes Jaguar, Land Rover, Maserati, Chana, FAW and Foton. Either these distributors are no longer members of AVID, or they simply refuse to divulge their sales performance.
* CATS Motors is also listed as a member of CAMPI, the only company that straddles both organizations.
* AVID doesn't seem to be very familiar with its own members. On the table above, members are listed by their official company names except Subaru (Motor Image Pilipinas). The acronym for The Covenant Car Company Incorporated is written as "TCCI" (it should be "TCCCI"). And on the group's website, the logo for Land Rover is that of "Range Rover."
Continue reading below ↓
Recommended Videos