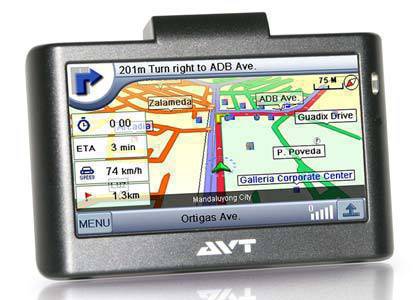 In-car video and audio systems provider AVT has upgraded its portable GPS navigation product with the launch of the Navigator P820.
The AVT Navigator P820 includes features sorely missing from the A800 version: a touch-screen color display and a voice-prompt technology which make the device more user-friendly and efficient for motorists.
The new AVT Navigator P820 is equipped with a Centrality ARM926T AT 4X04 CPU for quick positioning. It also allows users to add their favorite destinations and set their home location.
AVT assures that its navigation systems offer directions that are constantly updated and verified.
"With our dedicated mapping team, we now have people on the ground all over the country, continuously updating our map information. We believe it is this commitment to local support that sets us apart from other brands," said William Chong, AVT project team leader for navigation systems. "Filipino IT workers are valued all over the globe for their technical skills and creative solutions--we are harnessing this talent to create the leading GPS navigation system customized for Philippine road conditions."
The new AVT Navigator P820 will be offered at zero interest through BPI Mastercard during the
2009 Consumer Electronics Live Expo
at the World Trade Center from November 13 to 15 and the Manila Auto Salon Show at the SMX Convention Center from November 26 to 29.
Continue reading below ↓
Recommended Videos