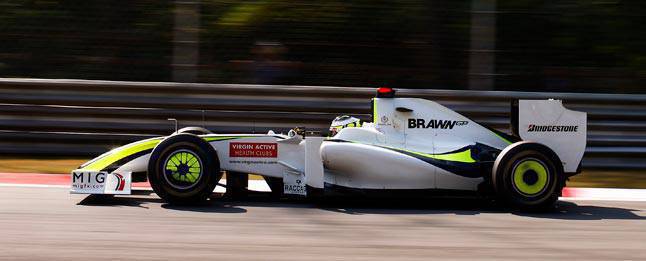 Rubens Barrichello topped the 2009 Italian Grand Prix ahead of teammate Jenson Button, giving Brawn GP its fourth 1-2 finish of the season.
"It feels great. I have no words," Barrichello said in the post-race press conference aired on television. "At 37 I'm driving better than I ever have."
Although the Brawn GP drivers started the race on fifth and sixth place, respectively, it was the team's one-stop strategy that saw them claim the top two steps of the podium.
Pole sitter and 2008 world champion Lewis Hamilton landed on fifth place after his pit stops. He ended up completely losing the race when he spun between the Lesmo corners before crashing on to a tire barrier while chasing Button for second place. This gave Kimi Raikkonen an opening for the third spot.
Force India's Adrian Sutil, who surprised everyone as he took P2 after the qualifying session, proved that the team's rapid pace in the Belgian Grand Prix wasn't a fluke. He finished in fourth place ahead of Renault's Fernando Alonso, and claimed his first points of the season.
Rounding off the points finishers were McLaren's Heikki Kovalainen, BMW Sauber's Nick Heidfeld and Red Bull Racing's Sebastian Vettel, last year's Monza winner.
Continue reading below ↓
Recommended Videos
Vettel's teammate, Mark Webber, blew his chance at the world championship when he and BMW Sauber's Robert Kubica collided, sending his car out of commission. Kubica escaped with a damaged front wing.
Force India's Vitantonio Liuzzi, Giancarlo Fisichella's replacement, qualified for seventh place and managed to run as high as fourth in the race before his race came to a premature ending after a gearbox problem on Lap 23. Liuzzi has been Force India's reserve driver since the team's inception and last saw on-track action at the 2007 Grand Prix in Brazil with Toro Rosso.
Meanwhile, Fisichella seemed to be adjusting well to his role as Ferrari's newest driver. He only qualified to start on 14th place and finished in ninth. This is a big improvement over the performance of Luca Badoer who was initially tapped to replace Felipe Massa.
Button's second place finish keeps his title hopes alive as he heads into the Singapore Grand Prix two weeks from now with a 14- point lead ahead of Barrichello.
"It's nice to be back up here," said Button. "I'd like to be where Rubens is sat but he did a better job today. I've lost two points to Rubens but gained seven on Vettel."
Button won six of the season's first seven races but managed to collect just 11 points in the last five races before this weekend's Italian Grand Prix.