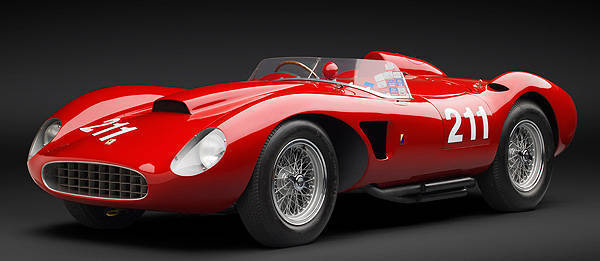 Vintage Ferraris often generate the highest bids at an auction, even more so if it's a classic race car. It's to be expected then that a very rare racing specimen, with fully documented provenance, would be the top seller as a 1957 Ferrari 625 TRC Scaglietti Spider--one of only two ever built--has proven when it sold to an unidentified bidder for €5.04 million (just over P275 million).
Commissioned by Ferrari's distributor in the West Coast of the United States, Johnny von Neumann, the 625 TRC has been racing since it was first driven out of the Ferrari factory. Completed in June 26, 1957, the car finished at the top of its class in its very first race in Salzburg, Austria, in August 1957. After the car finished in second place at the Grosser Bergpreis der Schweiz in Switzerland, Von Neumann had the car shipped to the US where it resumed its racing career. Incidentally, its very first race in the United States was the very first race held at the then-new Laguna Seca racetrack.
ADVERTISEMENT - CONTINUE READING BELOW ↓
The 625 TRC continued its winning ways throughout the 1960s, despite changing hands numerous times between 1959 and 1978 and losing its original 2.5-liter four-cylinder motor for a Chevrolet V8. In 1981, the most recent owner acquired it and had it restored with a Ferrari V12 Testa Rossa-specification engine, and by 1985, the 625 TRC was once again competing in historic automobile races.
"In all, the current owner raced 0680 MDTR (the car's chassis number) on 113 occasions during a post-restoration vintage-racing career even more prolific than the car's extensive period racing history," RM Auctions, which handled the car's sale, said in a statement.
What probably drove the auction price up, though, other than the car's storied history is that it was sold "with its original, matching numbers 2.5-liter Ferrari Type 625 LM racing engine," which means the new owner can either continue to enjoy its V12-derived power or make it an all-original affair by swapping it for its original four-cylinder mill.
ADVERTISEMENT - CONTINUE READING BELOW ↓
Recommended Videos
Now, that's an automotive fairy-tale ending.