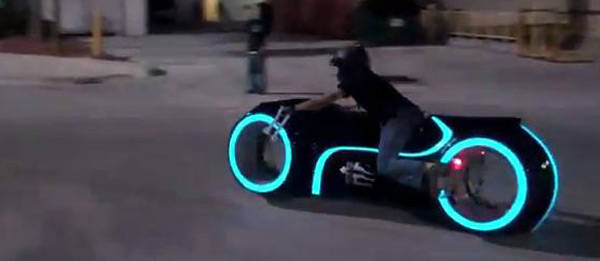 If you're a science-fiction movie geek who has fantasies of living in a world like that in the movie Tron, Parker Brothers Custom Choppers has the thing for you as it has recreated the light cycle from the movie.
Based on the light cycle in the Tron: Legacy movie, the Parker Brothers' creation is powered by a 96-volt electric motor that draws its energy from lithium-ion batteries.
What's even better is that Parker Brothers is giving it away through a video contest. Anyone who has his or her eye out for this piece of geek equipment only needs to register on Parker Brothers' website and submit a three-minute video by December 7 to say why they deserve the light cycle. Semi-finalists will then be chosen and their videos will be posted on the website. The winner will be chosen by the public based on how many votes his or her video gets.
Parker Brothers' rules and regulations on the electric light cycle giveaway didn.t mention that a video entrant must be a resident of the United States which means anyone from anywhere in the world is entitled to join. The only catch, however, is that the winner "is required to pick up prize at Parker Brothers Choppers Inc."
Continue reading below ↓
Recommended Videos
If you're not the lucky winner but you'd still like your hands on one, Parker Brothers can reportedly build a gasoline-powered one for you for $55,000 (over P2.4 million).
The only thing missing, really, is for it to create a wall of colored light behind it then it would be perfect.