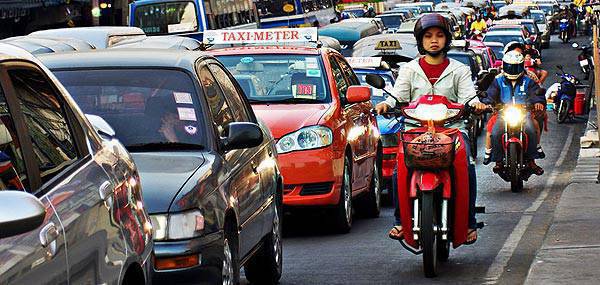 Action star-turned-lawmakers seem to have a penchant for road safety--not that anyone's complaining. Senator Jinggoy Estrada has filed a bill seeking the designation of motorcycle lanes on public roads.

Senate Bill 781, also known as the Motorcycle Lane Act of 2010, seeks to reduce motorcycle-related accidents. The bill seeks to complement the Mandatory Helmet Law, which was authored by Sen. Ramon Revilla Jr. and signed by former President Gloria Macapagal-Arroyo in April.

"Congress passed a law requiring motorcycle drivers to wear helmets as additional road protection but this is not enough to minimize accidents and deaths," Estrada said. "With designated motorcycle lanes and adequate education on road discipline, motorcycle accidents in major thoroughfare will be minimized if not eradicated."

If enacted into law, local government units in coordination with the Department of Public Works and Highways will designate a one-meter wide motorcycle lane on both sides of the road, starting from the road's gutter or easement. Existing bike lanes may also be used by motorcycles.

Once the bill is passed, riders who fail to use the motorcycle lane could face a jail term of not more than six years or a fine ranging from P5,000 to P20,000, or even both depending on the court's decision.

Do you think this will help curb road accidents? Or should the government have stiffer penalties for those who violate the law once it takes effect?
Photo from SXC.hu
ADVERTISEMENT - CONTINUE READING BELOW ↓