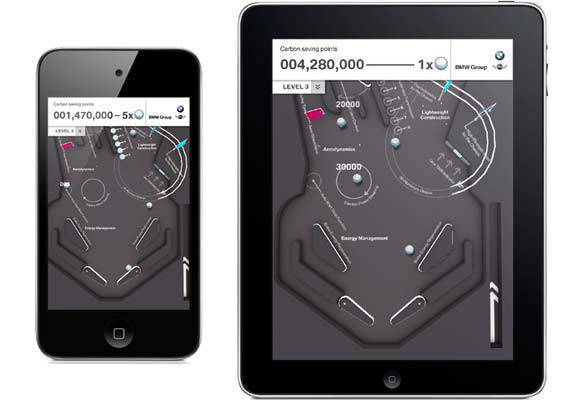 BMW is making its commitment to sustainability a personal experience for everyone by coming up with a pinball application for the iPhone and the iPad.
A virtual version of the classic pinball game, BMW says the application helps users understand the German carmaker's strategies for reducing carbon-dioxide emissions.
The game's objective is to collect carbon-dioxide reduction points by activating BMW's EfficientDynamics technologies. This is made possible by having various elements of the pinball game represent individual technologies, which are activated by contact with the ball to reduce carbon-dioxide emissions. Additional EfficientDynamics measures come into play at different levels while a multi-ball function in the game's third level 3 symbolizes the incorporation of all measures into the vehicle fleet to maximize the emission-reducing effect.
Information on BMW's EfficientDynamics technologies can be accessed directly from the application.
A life-size version of the virtual pinball game can be found in the Munich Airport's Terminal 2 departure lounge in Germany where BMW currently has its interactive sustainability exhibit. Also on display are a virtual water cycle, a driving simulator and an application for optimizing traffic flow.
Continue reading below ↓
Recommended Videos