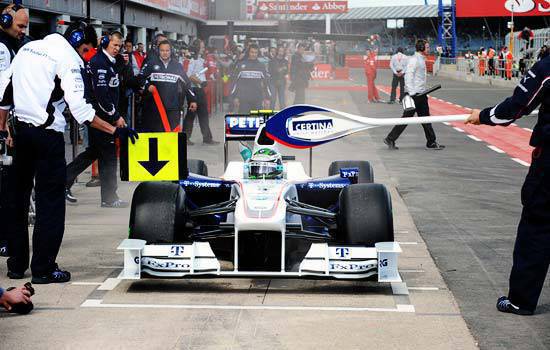 BMW Sauber is dropping out of Formula One by the end of the season due to unmet expectations in the team's performance.
The announcement was made by BMW Sauber team principal Mario Theissen, chairman Dr. Norbert Reithofer, and director for development Dr. Klaus Draeger in a press conference at the BMW headquarters in Munich.
"Since we only made this decision yesterday, we cannot provide any more precise information. We will develop and assess various scenarios and do our best to find a solution for the employees in Hinwil and the staff members involved in the Formula 1 project in Munich. We are aware of the responsibility we shoulder and will inform the staff as soon as we can make a clear statement," Draeger said.
Reithofer said it was a "difficult" yet necessary decision as the BMW undergoes a "strategic realignment."
BMW officials said the team would have wanted to continue its F1 campaign to prove that this season's lackluster performance "was just a hiccup." BMW Sauber has been in F1 for three and a half seasons.
"But I can understand why this decision was made from a corporate perspective. We will now focus sharply on the remaining races and demonstrate our fighting spirit and put in a good result as we bid farewell to Formula 1 racing," Thiessen said.
In 2007, BMW took second place in the world constructors' championship. However, this only came after McLaren was excluded from the championship following an espionage controversy involving the British team and Ferrari. Since then, BMW Sauber toiled as a dark horse against both teams though, at eighth place, the current season is the team's worst by far.
Continue reading below ↓
Recommended Videos