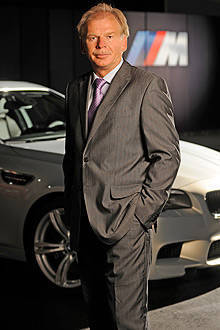 BMW will be expanding its M division by creating a new range of vehicles "for drivers seeking a particularly sporty driving experience, yet who also value the familiar comfort and practicality of BMW models."
To be known as BMW M Performance Automobiles, the new range will offer exclusive engine variants, enhanced agility and precision on the road, and feature more emotional designs. According to BMW, this interplay of engine output, power transfer, chassis technology and aerodynamic balance "provides a captivating showcase for the familiar M genes--in day-to-day driving and beyond."
"We are targeting our efforts at customers looking for more emotionality and more performance, but who don't want to forgo the everyday usability of their cars," said Friedrich Nitschke, president of BMW M GmbH. "The BMW M Performance Automobiles benefit from the full expertise of BMW M GmbH."
Nitschke also revealed additions to the new range that include "a wide variety of model series, as well as both petrol and diesel-engined variants". BMW's xDrive intelligent all-wheel-drive system will also be playing a significant role in the BMW M Performance Automobiles.
The BMW M Performance Automobiles will be presented to the public for the first time at the Geneva Motor Show this March.
Continue reading below ↓
Recommended Videos