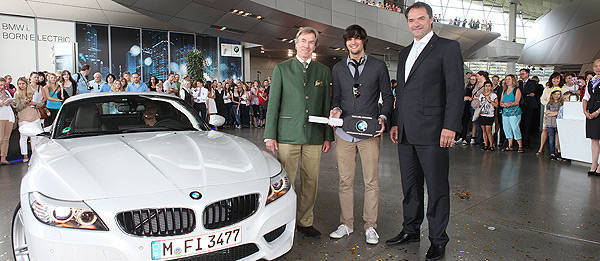 BMW Welt, the German carmaker's customer experience and exhibition facility, first opened its doors on October 20, 2007. After registering a record number of visitors last year at 2.3 million, BMW Welt welcomed its ten-millionth guest on July 4 with a special gift.
The milestone visitor was Patrick Zanker and on hand to greet him were Thomas Muderlak, head of BMW Welt, and BMW brand ambassador--and features editor Sharleen Banzon's one-time driver in Spain--Prince Leopold of Bavaria.
Besides the very personal welcome, Zanker also received a special gift as he will get to "enjoy BMW's characteristic 'sheer driving pleasure' for 10 weeks" by being handed the keys to a Z4.
"Ten million enthusiastic BMW fans in just under five years certainly confirms that our varied program and our building's fascinating architecture make the BMW Welt a place for extraordinary experiences," said Muderlak. "Over the coming years, we will continue to do everything in our power to offer a one-of-a-kind brand experience for young and old alike."
Continue reading below ↓
Recommended Videos