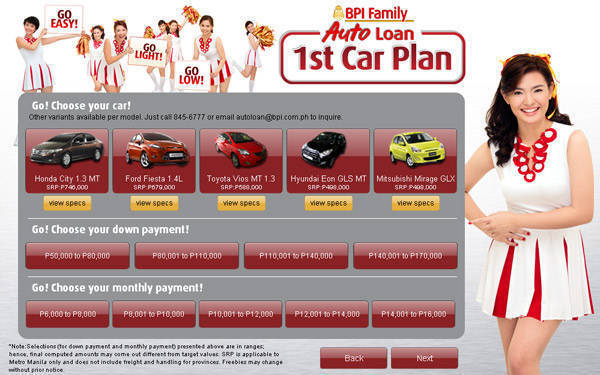 Have you been dreaming of owning your first brand-new car? Well, BPI Family Savings Bank Auto Loan can help you turn your dream into reality with its latest car-loan plan dubbed "1st Car Plan."
With 1st Car Plan, you can avail of your desired car with a down payment of just 10% of its price. You can then have the option of paying the monthly amortization for up to 72 months. Free comprehensive insurance with Acts of Nature coverage comes with this package.
Five vehicles are included in this loan plan:
* Ford Fiesta
* Honda City
* Hyundai Eon
* Mitsubishi Mirage
* Toyota Vios
If your dream car belongs to the list above, visit bpiautoloans.com and click on 1st Car Plan to start shopping. You will then be asked to do the following:
1. Indicate your monthly income.
2. Select your preferred car, down payment and monthly payment.
3. Fill out and submit a simple form.
Now, go and own your very first brand-new car.