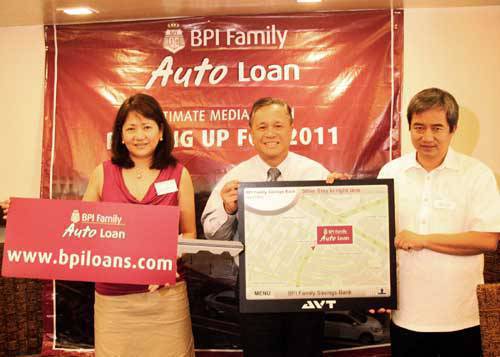 Successful BPI Family Savings Bank (BFSB) auto loan applicants won't just get to enjoy a brand-new car; they can drive around without getting lost as well.
BPI Family Savings Bank is currently offering a free AVT global positioning system navigation device for every successful auto loan application.
"As we begin a new year, BPI Family Auto Loans is always on the lookout for ways to make driving their brand new cars easy for Filipinos throughout the country," said Dave Sarmiento, senior vice president for BFSB's auto and motorcycle loans division. "Following the initial Auto Madness event in Alabang wherein we gave out free GPS units, we are now taking this initiative to a nationwide scale."
Want to know how you can get your own GPS navigation device from BPI Family Savings Bank? Here's a list of the things you need to do:
1. Apply, get approved and avail of a BPI Family Savings Bank auto loan within the promo period (February 14 to March 15). The loan must be for a brand-new vehicle that is for private use only.
2. Borrow a minimum amount financed of P700,000 with a minimum term of 36 months.
3. Have your vehicle unit you ordered under a loan from BPI Family Savings Bank must be delivered by April 1.
Continue reading below ↓
Recommended Videos
Remember that the loan applications are subject to the approval of BFSB, which you can get in three to eight hours.
BPI Family Savings Bank is one of the biggest lenders to consumers looking to buy a new car with a 20 to 21 percent market share in automotive loans. In 2010, BFSB posted a 35 percent increase in the amount it financed for brand-new car purchases.
Sarmiento said the bank will most likely continue to outpace the market this year as more and more exciting car products are launched in the Philippines. He added that auto loans are now made more accessible via the website www.bpiloans.com.
BPI Family Savings Bank is Top Gear Philippines' New Car Guide partner.
In photo, from left: Miriam Jane Jacinto, vice president and Auto Loan Direct marketing head; David Sarmiento, senior vice president and Auto and Motorcycle Loans Division head; and Felipe Carlos, vice president and dealer network head.