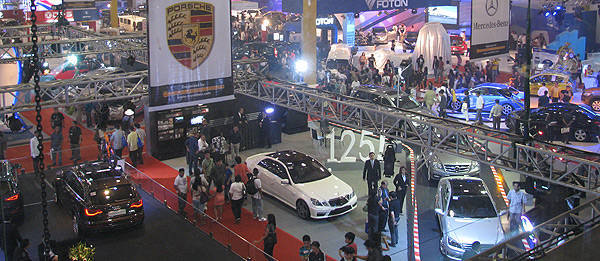 BPI Family Savings Bank has renewed its partnership with Worldbex Services, the organizers of the annual Manila International Auto Show (MIAS), to again be the official presenter of the country's biggest motoring event.
"We see the continued interest of Filipinos to have their own cars. Our partnership with Worldbex Services International for the 8th Manila International Auto Show is in line with our commitment to make car ownership easy for Filipinos. With BPI Family Savings Bank at the MIAS, we can help you decide which car suits you best and provide one-year comprehensive insurance with acts of nature coverage--free for one year," said David Sarmiento, Jr., senior vice president and auto-loans division head of BPI Family Savings Bank. "This way, we also help Filipinos prepare for the unexpected and ensure that when typhoons, floods or other calamities hit, they are surely protected."
As the official MIAS presenter, BPI Family Savings Bank's auto-loan team will be onsite at the BPI Family Auto Madness booth to help visitors who are shopping for a new car make owning one a reality through BPI Family Auto Loan.
On top of the affordable interest rates and free insurance coverage offered by BPI Family Savings Bank, clients can also take advantage of fast credit approval of three to eight hours. Once the loan is approved, customers also receive a BPI MasterCard for free to go with the free fuel and fuel rebates. Paying for the loan is also made more convenient, thanks to BPI's wide range of payment channels such as auto debit arrangement, Express Online, Express Phone and ATM.
Continue reading below ↓
Recommended Videos
"During the MIAS, we offer to the public deals that will give them the best value for their money that no other banks have offered before. We encourage car buyers to visit and join us at the 8th Manila International Auto Show to help them decide which brand new car to buy," Sarmiento added.
Though Sarmiento couldn't recall how many loan applications BPI Family Bank received at the 2011 MIAS, he did note that half of the applications were for passenger cars while the other half was for light commercial vehicles.
The MIAS, happening from March 29 to April 1, remains the Philippines' biggest annual motoring event as it features the best and latest in the local automotive industry. With the show's total attendance this year expected to go over the 70,000 mark, which was hit in 2011, Worldbex has expanded the show's total floor area to 3.5 hectares as the crowds are expected to spill over to the adjacent tent area and the Philippine Trade Training Center.