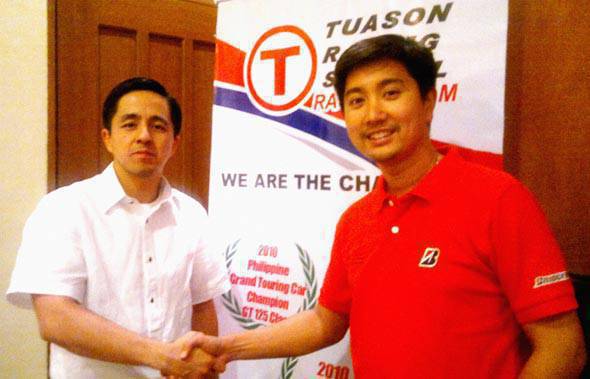 Bridgestone may have been replaced by Pirelli as the official tire supplier in Formula 1, but the popular Japanese tiremaker is still making some headway in motor racing--at least in the Philippines. In an intimate press briefing held in Makati last night, racing driver and instructor JP Tuason of Tuason Racing School formally presented Bridgestone as its new tire supplier. Bridgestone is replacing Goodyear, which was TRS's tire-brand partner from 2003 to 2010.
According to JP, whose deceased father Arthur was among the country's foremost racing drivers in the '70s, Bridgestone is not actually a new supporter of his company, having been TRS's tire sponsor from 2000 to 2002.
So, what drove TRS to split up with Goodyear?
"Goodyear underwent a change in management and direction," revealed JP. "Right now, they just want to concentrate on drifting. While TRS also competes in drifting, we're an all-around racing outfit that's involved in other motorsport events."
It should be noted that Goodyear is currently a main supporter of drifter David Feliciano's DMF Drift Garage and School.
"This development is actually favorable to us since Bridgestone has tires for karting, drifting and circuit racing, whereas Goodyear only has drifting tires," JP pointed out as he shook the hand of Marc Tagle, the general manager of Bridgestone distributor Philippine Allied Enterprises Corporation.
Continue reading below ↓
Recommended Videos
[poll]208[poll]