Chocoholics, beware!

You may soon have to race against, well, race car drivers to the candy store for your chocolate fix.

The University of Warwick in a statement said it has unveiled a Formula 3 racing car that runs on chocolate.

The WorldFirst Formula 3 racing car may as well be the healthiest vehicle to date as it is steered by carrots and its bodywork is made from potatoes.

"Components made from plants form the mainstay of the car's make up, including a race specification steering wheel derived from carrots and other root vegetables, a flax fibre and soybean oil foam racing seat, a woven flax fibre bib, plant oil-based lubricants and a biodiesel engine configured to run on fuel derived from waste chocolate and vegetable oil," Dr. Kerry Kirwan of the university's research team said.

Researchers said the WorldFirst car is designed as a race car that can run 125 miles per hour (201.17 kilometers per hour) to show that a fast and competitive vehicle may be produced using environmentally sustainable resources.

"The WorldFirst project proves that if you are going to wholeheartedly embrace the 'green is great' ethos you have to broaden your vision and have a strategy that stretches throughout the chain from the raw materials to the final disposal of the car. The project clearly demonstrates that automotive environmentalism can and should be about the whole package," research team member Dr. Steve Maggs said.
Continue reading below ↓
Recommended Videos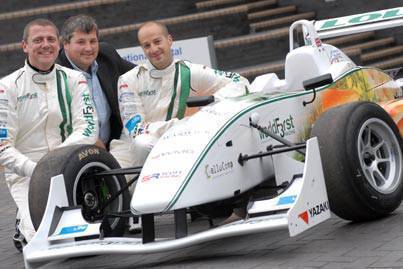 (From left) Researchers Dr. Kerry Kirwin, Dr. Steve Maggs, and Dr. James Meredith pose with the recently unveiled WorldFirst Formula 3 racing car.