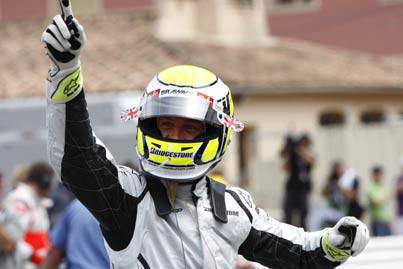 Brawn GP's Jenson Button claimed his fifth win out of six races in yesterday's Monaco Grand Prix.
This brings Brawn GP's points to 86 in the past six races, the same number of points of Red Bull, Toyota and Ferrari combined.

On a track as tight and narrow as the streets of Monte Carlo, starting on pole position is very vital - something that Button took a huge advantage of as he practically dictated the race's pace from start to finish. The procession that the Monaco GP has been known for had a slightly different ending. Button defied tradition by parking his car in the wrong area and closing his victory lap with a jog to the start/finish line to get to the podium.

Sitting on P3, Brawn's Rubens Barrichello had a quick start off of the line as he overtook P2 sitter, Ferrari's Kimi Raikkonen, onto the Sainte Devote corner at the opening lap. Much like Button, both Barrichello and Raikkonen then held on to their respective positions until the end of the race, with Raikkonen finally claiming his - and Ferrari's - first podium finish of the season.

Race 'retirees' and point finishers

Red Bull's Sebastian Vettel, meanwhile, lost his chance to close in on Button's lead when he understeered straight onto the Sainte Devote corner's tire barriers on Lap 17. Vettel now is down by 28 points from Button's 51.

Other drivers who crashed out of the Monaco GP were Toro Rosso's Sebastien Buemi who claimed the entirely innocent Nelson Piquet Jr. also on the Sainte Devote corner, McLaren's Heikki Kovalainen who lost control after hitting kerbs at the Swimming Pool, and WilliamsF1's Kazuki Nakajima who nosed his FW31 in the barrier at Mirabeau on the penultimate lap.

The rest of the points finishers, like Ferrari's Felipe Massa, Red Bull's Mark Webber, Nico Rosberg of WilliamsF1, Renault's Fernando Alonso, and Toro Rosso's Sebastien Bourdais, then built on the misfortunes of others as they climbed their way up the points ladder.
Mixed fortunes for McLaren, Ferrari and Toyota

Meanwhile, last year's winner, McLaren's Lewis Hamilton, had a day he'd want to forget when he got a ten-second penalty following an unscheduled gearbox change after his crash during the qualifying session. Relegated then to 17th place, Hamilton endured the whole race as a back marker, further reinforcing his statement after the crash that his "race weekend for a win is for sure over."

Ferrari's continuous improvements on its car proved to be effective with the Italian outfit's F60 claiming the fastest lap in the usually boring pace in Monte Carlo.

Contrary to Ferrari's fortunes, Toyota's efforts seem to be going nowhere as Timo Glock and Jarno Trulli finished the race without claiming any points.
Continue reading below ↓
Recommended Videos
Complete result

1 Jenson Button (Brawn-Mercedes)
2 Rubens Barichello (Brawn-Mercedes)
3 Kimi Räikkönen (Ferrari)
4 Felipe Massa (Ferrari)
5 Mark Webber (RBR-Renault)
6 Nico Rosberg (Williams-Toyota)
7 Fernando Alonso (Renault)
8 Sebastien Bordais (STR-Ferrari)
9 Giancarlo Fisichella (Force India-Mercedes)
10 Timo Glock (Toyota)
11 Nick Heidfeld (BMW Sauber)
12 Lewis Hamilton (McLaren-Mercedes)
13 Jarno Trulli (Toyota)
14 Adrian Sutil (Force India-Mercedes)
15 Kazuki Nakajima (Williams-Toyota)
Ret Heikki Kovalainen (McLaren-Mercedes)
Ret Robert Kubica (BMW Sauber)
Ret Sebastian Vettel (RBR-Renault)
Ret Nelsinho Piquet (Renault)
Ret Sebastian Buemi (STR-Ferrari)