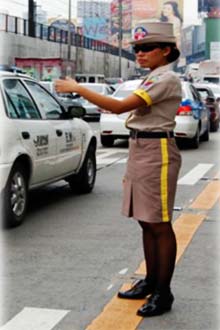 The Metropolitan Manila Development Authority (MMDA) is among the many government agencies that enjoy an intense love-hate relationship with the public. This is hardly surprising given all the tasks the agency is asked to handle.
According to its website, the MMDA services revolve around development planning, transport and traffic management, solid waste disposal and management, flood control and sewerage management, urban renewal, zoning and land-use planning, shelter services, health and sanitation, urban protection, pollution control, and public safety. Whew! We wonder why it didn't include film showing when it also handles the annual Metro Manila Film Festival.
Anyway, the MMDA is involved in so many things that it has decided to give us an accomplishment report lest we forget what it's been doing the past 12 months. As much as 30 percent of its 49-page report is dedicated to transport and traffic management. If that sounds too boring for you, don't worry. We fished out most of the stuff you need to know for an easy read.
Continue reading below ↓
Recommended Videos
* Eight MMDA District Traffic Offices have been established to localize, identify and manage traffic problems. Night-shift deployment is available depending on traffic volume and density in specific areas.
* 15 female traffic enforcers have been to help manage traffic along the north- and south-bound lanes in Magallanes, Makati City.
* 281,448 citation tickets were issued from July 27, 2010, to April 15, 2011. The MMDA does not confiscate driver's license except in grave cases.
* 8,627 units or 70.81 percent of the 12,689 authorized city and provincial buses plying Metro Manila roads have been tagged and barcoded in line with the MMDA's campaign against colorum or illegal buses.
* As of July 2011, MMDA has a total of 66 footbridges serving approximately 2.3 million pedestrians daily. Two of the footbridges were completed between July 2010 and July 2011.
* 675 pieces of traffic signages were installed for the safety of motorists and pedestrians.
* From November 11, 2010, to February 17, 2011, travel time was reduced by almost 16 percent and average travel speed increased by more than 24 percent to 36.09kph from 29kph along EDSA with the introduction of Mabuhay Lanes and the strict implementation of the number-coding scheme on city and provincial buses.
* 6,500 previously-granted exemptions from the Unified Vehicular Volume Reduction Program or number coding were revoked on August 2, 2010.
* 140 traffic enforcers were deployed along Commonwealth Avenue to strictly implement the 60kph speed limit in the area. A total of 14,158 violations were recorded along Commonwealth Avenue from January 26 to April 10, 2011. Of this number, 11,666 were for public-utility vehicle lane violations, and 1,344 were for overspeeding.
* On June 23, Metro Manila mayors agreed to impose a 60kph speed limit on vehicles running along the 35-meter wide and five-kilometer long Diosdado Macapagal Avenue in Pasay City. Implementation started on July 26.
* The MMDA collaborated with the Technical Education and Skills Development Authority to train female bus drivers as "statistics show that women drivers are gentler and more responsible." According to the report, 26 female drivers have completed the driving course and they are currently employed ni five different bus companies.
* On May 30, the MMDA teamed up with ABC Development Corporation to develop an online traffic navigator that delivers reports in major intersections and thoroughfares in Metro Manila.
What do you think is the best accomplishment of the MMDA so far? And what suggestions can you make to help the agency know how to serve us better?