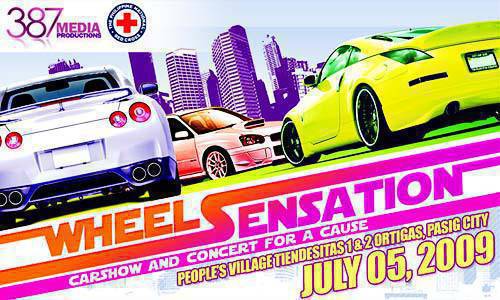 Spend family day with a bunch of cool cars and help fund a worthy cause at Wheel Sensation 2009 on July 5.
 
387 Media Productions and the Philippine National Red Cross have teamed up for a show that will gather various car clubs on Sunday.
 
For some fortuitous reason, the people behind 387 Media Productions are all car enthusiasts from the likes of Naughty North Auto Club, MitsuLancerPh, and AutoMujeresPinas.

Competitions during the event include the search for the best body kits, engine bay, engine setup, and customization. Wheel Sensation will also recognize the best American, Japanese, Asian and European cars.

There will also be a sound-off competition with different categories for those who are more into the aural appreciation of a car's sound system. But if you're the type who'd just like to listen to good music, you can enjoy the string of live bands playing at the event's concert stage.

387 Media Productions is expecting over 100 participants to join the carshow and the sound-off competition alone, with over 500 attendees expected to grace the event as well.

Other car clubs with representatives at the event include Pinoy Mini, Club Nissan Sentra, Team Full Throttle, Club 7th Gen, Altis Club, Team FD, Vios Club Philippines, Kotse Audio Club.

Car enthusiasts who want to participate in either the carshow or sound-off competitions are required to register at the event for P1,500. Ticket to the event costs P50 and entitles the holder to a car show pass and a concert pass, as well as a voting stub for the People's Choice Award and a raffle coupon for a chance to win a Suzuki Raider, PSPs, iPods, HID lamps and other prizes.

Wheel Sensation runs from 10 a.m. to 11 p.m. on July 5. Event proceeds will fund Red Cross' feeding program, and medical and dental mission on August 16.

Continue reading below ↓
Recommended Videos