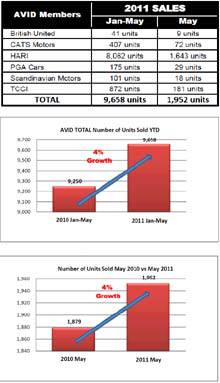 The Association of Vehicle Importers and Distributors (AVID), which makes up 15 percent of the Philippine car industry, expects to remain competitive for the rest of the year after beating the industry's sales growth from January to May.
Based on figures from five of its biggest members, AVID said its group registered a four-percent rise in sales in the first five months of the year. This is higher than the 1.5-percent industry growth reported by the Chamber of Automotive Manufacturers in the Philippines for the same period.
Joint sales of British United, CATS Motors, Hyundai Asia Resources, PGA Cars, Scandinavian Motors and The Covenant Car Company also reflected a four-percent growth in sales for May alone.
"(This) demonstrates the strategic advantages of our global supply platforms and brand management strategies to mitigate the risks of external crisis, like Japan's disaster, and consumer vulnerability to economic uncertainties," said AVID president Maria Fe Perez-Agudo.
She added that the Philippine car industry is also expected to "benefit from positive expectations on the economy in the second semester with managed inflation and fiscal deficit, stable foreign exchange and steady OFW remittances, and portfolio capital flows."
"Business sentiment remained optimistic as shown in the Central Bank's business expectations survey in the second quarter of this year, which means that both the industry and services sector are likely to sustain growth in the next quarters and contribute to further boost the economy," AVID said.
Brands imported and distributed by AVID members are Audi, Chana, Chevrolet, Chrysler, Dodge, FAW, Foton, Hyundai, Jaguar, Jeep, Maserati, Mercedes-Benz, Mini, Porsche and Volvo.