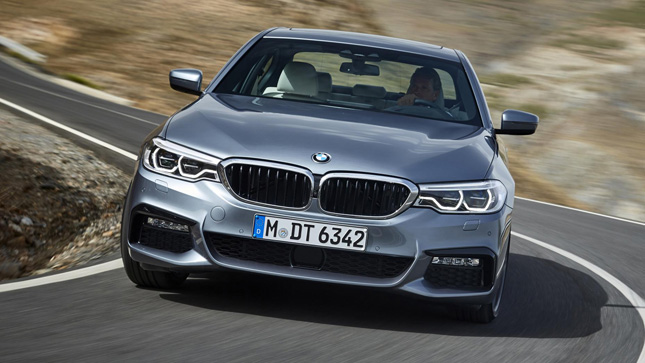 So the new Bimmer for executives has landed, and unlike the previous-generation 5-Series that took some time to grow on us, so far we dig what we see. Here are the highlights from what we know so far.
1) As a 5-Series it's all-new, but it's made of parts that aren't.
ADVERTISEMENT - CONTINUE READING BELOW ↓
The platform, suspension, 10.5-inch iDrive, seats, driver-assist and much more are borrowed from last year's 7-Series. This means almost every bit of fancy spec available on the 7-Series can also be had on the 5.
2) It doesn't have the 7-Series 'carbon core body'…but it's still light, and slippery.
The 7 has big girders of carbon fiber in its shell. But that's too expensive for the 5-Series, so instead it uses a mix of high-strength steel, aluminum and magnesium. The hood, trunk lid and doors are all aluminum. Overall, the new 5-Series is about 100kg lighter than before. The drag coefficient dips as low as 0.22 for the small-engined ones. Active grille shutters blank off the opening when cooling isn't needed.
3) Oh, and there's no V12.
The fastest 5-Series is a V8, the twin-turbo M550i xDrive. It's got 462hp and is claimed to crack through 100kph in 4.0 seconds. Crikey. If the next M5 sticks with RWD, it'll find that time hard to beat.
ADVERTISEMENT - CONTINUE READING BELOW ↓
Recommended Videos
4) At the other end of the spectrum, there's a thrifty diesel and a PHEV.
The 520d Efficient Dynamics makes 190hp, goes from 0-100kph in 7.5 seconds, and returns a claimed 102g/km. The other company-car fave might be the 530e plug-in. It has a claimed electric range of 45km, and when the engine kicks in a 6.2-second 0-100kph time. On the very particular demands of the EU cycle, it shows 46g/km.
5) And in between, more fours and sixes and XDrive.
To whit, the 530i which sadly is just a 2.0-liter four-cylinder, at 252hp. If you want a straight-six, you need a 530d (265hp) or 540i (340hp). The XDrive 4WD (illustrated below) is optional with nearly all engines, even the 520d. Only on the 520d RWD will BMW sell you a manual. On the 4WD versions, a rear-steering system makes the wheel feel more direct at slow speed and more stable at high speed.
ADVERTISEMENT - CONTINUE READING BELOW ↓
6) Active anti-roll is on the list.
The other fancy chassis system is active anti-roll with adaptive dampers. BMW calls it 'dynamic drive'. This time around it's a lightweight electric system, not a hydraulic one. BMW manages it with 12V, while Audi's and Bentley's SUVs need a 48V system. As usual there are endless chassis and powertrain modes from 'eco pro' and 'comfort' to 'sport+', and an adaptive one that adapts both to your style and the navigation's knowledge of the road.
7) There are some fresh shapes.
The daytime running LEDs trace a hexagonal outline, making a visual connection with BMW's traditional double grille. And there's a fresh crease down the side. It begins high above the front wheel arch, then takes a steadily rising path above the door handles before flicking up behind the aft side window. All about making the car 'surge' forward apparently. BMW design evolves so gradually, they think this is worth a special mention.
ADVERTISEMENT - CONTINUE READING BELOW ↓
8) You can be very, very assisted.
The Steering and Lane Keeping Assistant, with radar cruise control too, works at up to 209kph. Lane Change Assistant does that job for you, as well as Intelligent Speed Assist (incorporating speed restrictions into the cruise control system). An Evasion Aid supports your steering inputs if you swerve around an obstacle, even using the sensors around the car to watch and try to avoid other objects.
9) It's BMW-cloud-connected.
The BMW connected function will, if you let it, scan your diary and address book so when you get in the car the navigation is pre-loaded with your destination, and it's ready to text your ETA to the people you're meeting. As you go, other networked BMW vehicles tell you if you're driving toward a danger. A phone app connects to the car's 360-degree cameras so you can check its surroundings remotely on your phone.
10) It's the seventh-generation BMW 5-Series.
ADVERTISEMENT - CONTINUE READING BELOW ↓
Deep breath. In 1972 the angular-looking E10 5-Series succeeded the 'Neue Klasse' BMW 2000. The 1981 E28 modernized the idea, and in 1985 gave us the first M5. The 1987 E34 was more rounded and saw a Touring for the first time, and a V8, though the M5 was a six. Then in 1995 came the brilliant E39, with aluminum suspension and an awesome naturally-aspirated V8 in the M5. The Bangle-era E60 brought a part-aluminum body, active steering and iDrive in 2003, and a brilliant, raucous V10 M5. The 2010 F10/F11 was launched first as a third body style, the unlovely F07 five-door Gran Turismo.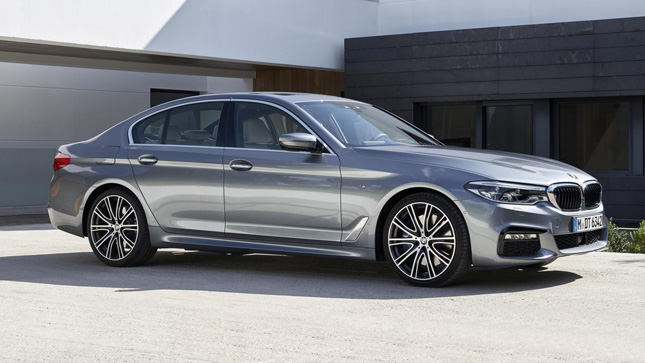 ADVERTISEMENT - CONTINUE READING BELOW ↓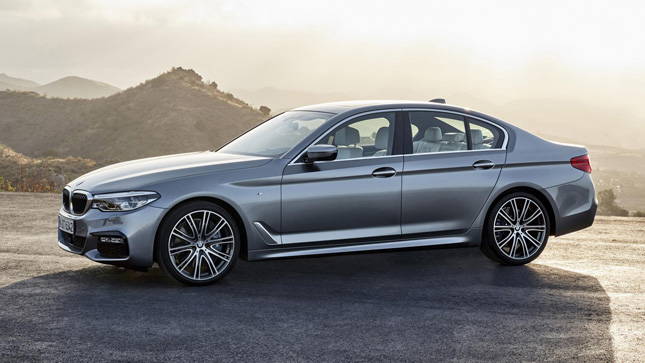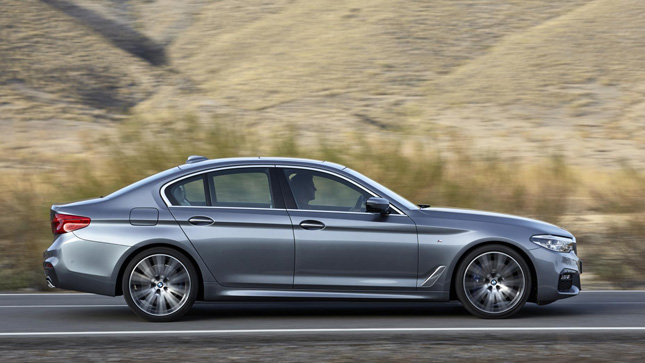 ADVERTISEMENT - CONTINUE READING BELOW ↓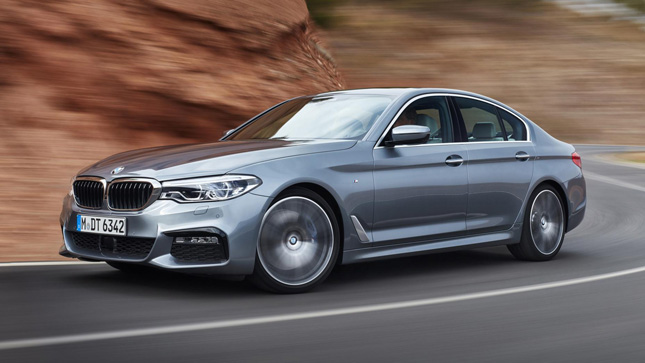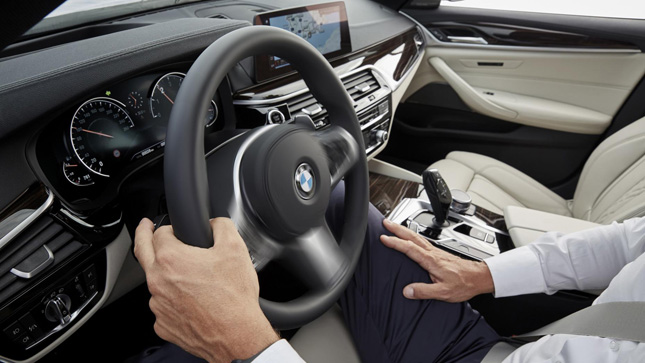 ADVERTISEMENT - CONTINUE READING BELOW ↓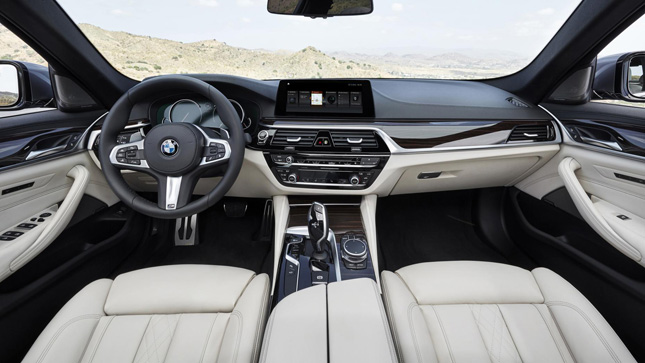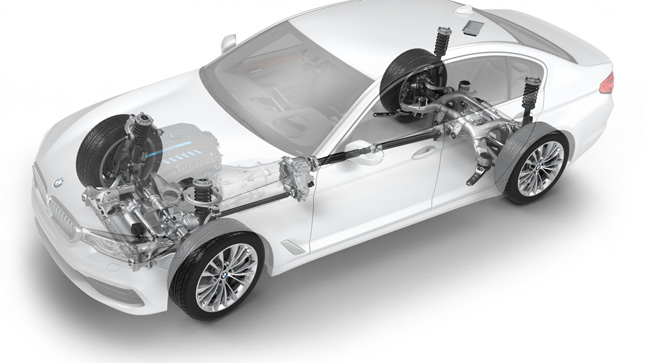 ADVERTISEMENT - CONTINUE READING BELOW ↓
NOTE: This article first appeared on TopGear.com. Minor edits have been made.