After months of building up anticipation, Mitsubishi Motors Corporation finally launched the refreshed Strada—called the Triton in some markets—today in Bangkok. The model is also celebrating its 40th birthday in 2018, and it has a new face and new features to mark the occasion.
The front end incorporates aspects of the Montero Sport and the Xpander, which is good or bad depending on how you perceive the design of those models. Overall, we think it's a handsome visage, taking the best cues from Mitsubishi's 'Dynamic Shield' styling on its midsize SUV and subcompact MPV.
The sides have new sculpted body curves with sharp, contrasting lines. The wheel flares have also been extended to emphasize the fact that this is a truck, and perhaps to make the Strada look tougher beside the market-leading Ford Ranger and Toyota Hilux.
Besides the sheetmetal, the cabin has been enhanced with new trim around the switch panel and the air outlets. Mitsubishi also highlights the soft-touch materials and stitching on the floor console, the armrests, and the parking brake.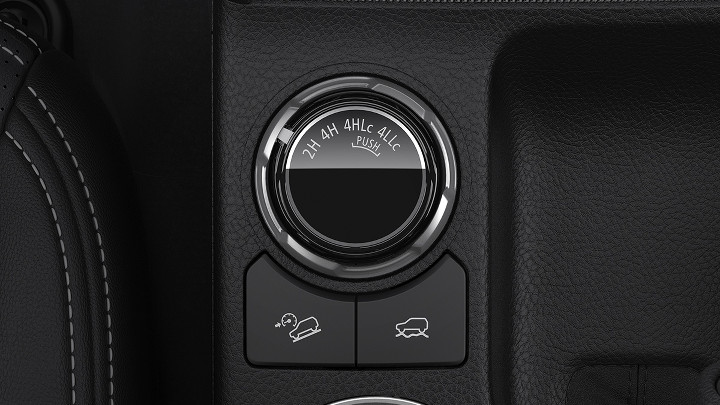 Continue reading below ↓
Recommended Videos
The other big development is the enhanced off-road systems. The 4WD variants are fitted with either Super-Select 4WD, for optimum traction and handling on any surface, or Easy-Select 4WD, which simplifies switching between drive modes for various road conditions.
Both Super-Select and Easy-Select also feature a new off-road mode that has Gravel, Mud/Snow, Sand, and Rock (in 4-low only) settings. Like similar systems in other (usually more expensive) brands, this new mode controls engine power, transmission, and braking to regulate wheel slip. Naturally, there's hill-descent control in the mix.
Given that there's no mention of new engines, the Strada's current 2.4-liter MIVEC turbodiesel is expected to be carried over.
Safety improvements are par for the course with Mitsubishi's updated models, and the Strada's case is no exception. It gets the Forward Collision Mitigation system that we first saw on the Montero Sport, and which detects vehicles and pedestrians in the path of the pickup. There's also Blind Spot Warning, Rear Cross Traffic Alert, and, the feature with the coolest name, Ultrasonic Misacceleration Mitigation System. The last one reduces accidents from, ahem, "improper use of the accelerator when moving off or reversing in car parks and other confined spaces."
Braking performance and feel are also improved, thanks to larger front discs and caliper pistons. Ride comfort should be better, too, with the larger rear dampers that have more damping oil. And in a move that other Japanese carmakers should emulate, Mitsubishi has upgraded the Strada's five-speed automatic transmission to six gears.
Thailand will get the Strada first, and it will be rolled out in other markets sequentially. No word yet on when our market will get it.