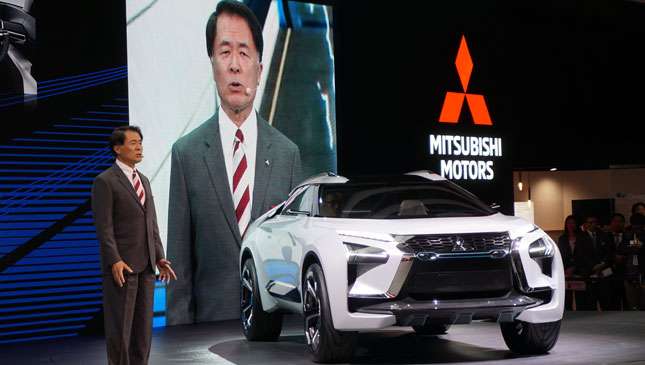 What do you get if you combined the ride height of an SUV like the Pajero, the sleek body of a Lancer, the sporty spirit of the Evolution series, and Mitsubishi's electric powertrain? Basically what comes out is the awesome e-Evolution Concept.
First teased last month, it got gearheads everywhere excited because it had the word 'Evolution' along with the three-diamond logo. So is it the return of Mitsubishi's fabled sports car series?
Well, not quite. What the e-Evolution is is literally the next stage, the evolution, of Mitsubishi's automobiles. What you're looking at—the upthrust chin, the sharp lines, the sloped profile, and the prominent grille—is what future Mitsus will look like. It doesn't mean we will see a car exactly like the e-Evo, but we will see many. Because as Mitsubishi Motors Corporation chief planning officer Mitsuhiko Yamashita said, "generation by generation" of models will come from this stunning template.
Continue reading below ↓
Recommended Videos
Actually if you look at the forthcoming Xpander MPV, there are already hints of the e-Evo in its daring face.
Mitsubishi will also lean heavily on artificial intelligence (AI). In the video reel introduction of the e-Evolution, the crossover can drive itself and manage your in-car communication.
We saw the e-Evolution at the ongoing Tokyo Motor Show, and in the metal (or whatever material it's made from) it's a bold vision with a strong statement. The ground clearance is really high, but overall it also sits low, with the roof not even reaching up to my upper chest. There are four seats inside the prototype, and the dashboard is basically a digital screen.
The wheels are placed at the far end of the body, with short front and rear overhangs framing the vehicle. The body itself is like a shell cocooned within massive wheels and a gaping ground clearance.
As the 'e' in its name states, it will be electric-powered and will send power to all four wheels via Mitsubishi's S-AWD system.
We had an opportunity to interview Mitsubishi's engaging design head, Tsunehiro Kunimoto, about his latest creation. And what we wanted to know most is what will be the first model that will be directly influenced by the e-Evolution. The Japanese gentleman just laughed and said he can't say yet. We take this to mean something is very much in the pipeline.
If the e-Evolution is the future of Mitsubishi, it's something we look forward to seeing. Do you like what you see?