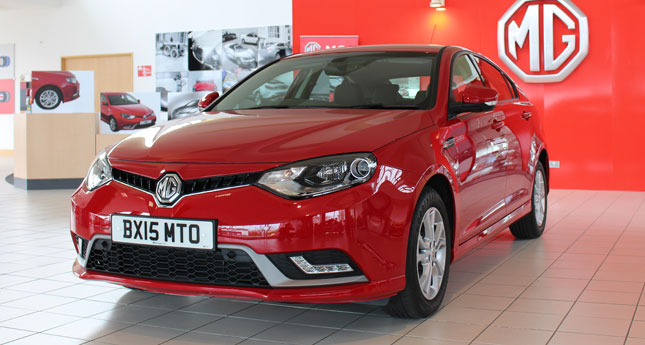 To most folks, the brand MG represents classic British sports cars such as the MG NB Magnette Airline Coupe and the MG F. While older folks may remember such nameplates, today's younger set might be more in tune with the brand's sedans and hatchbacks (MG 3, MG 5 and MG 350). Now, it adds a new model to the list--the MG 6.
A revised MG 6 sedan was recently launched at the British automaker's plant in Longbridge, Birmingham. First seen in 2010, the MG 6 can be had in either sedan or hatchback form, and boasts modern bits and trim pieces. It comes with diesel and gasoline motors, as well as a slew of amenities.
Available in S, TS and TL trim levels, the MG 6 now has daytime running lights, a new instrument cluster, a modern electronic handbrake, and a more luxurious cabin--including metallic accents in the cabin. The top-spec TL variant even gets bi-xenon headlights, leather interiors, rear-view camera, and added safety features.
The new MG 6 likewise gets in touch with the times by offering a variety of infotainment and connectivity options. One of these is the new MG Touch. This new system, which debuts on the new MG 6, is a navigation and infotainment feature. Apart from the usual radio and Bluetooth connectivity capabilities, it also has--you guessed it--GPS navigation that helps drivers find their way.
Continue reading below ↓
Recommended Videos
According to MG, the 6 comes with a Pack B that includes a new touch-up paint scheme, a trunk lid liner for added rigidity and noise insulation, and more luxuries such as floor mats and carpeting.
For those who think that these modern sedans and hatchbacks can't hold a candle to the original MGs of yore, a close look reveals that they do have some hint of performance underneath their modern shells. The sedan, with its 1.9-liter DTi-Tech diesel motor, is claimed to sprint from 0 to 100kph in just 8.4 seconds. Sure, it isn't a sports car, but it is more than adequate for the daily commute. And with an average claimed fuel consumption of 21.7km/L, most folks wouldn't really care about sprint times.
Will we ever see the MG 6 on our shores? Hopefully, Morris Garages Philippines, includes it in its lineup real soon.