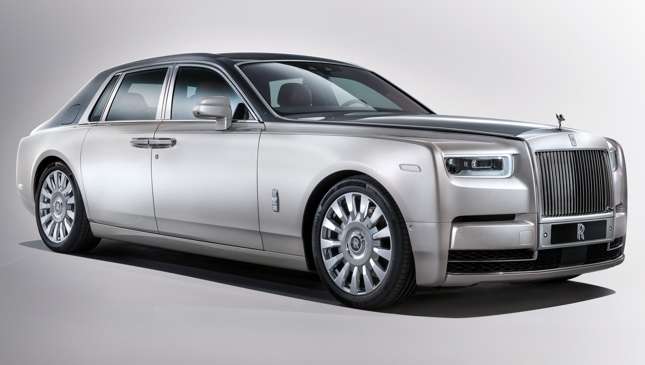 For over nine decades, the name Phantom meant the pinnacle of elegance and luxury. Ever since the first hand-crafted model emerged from Rolls-Royce's factory doors, it's been the vehicle of choice by some of the world's most influential people.
After being absent from the British luxury brand's lineup for over a decade, the Phantom returned in 2003, this time as a sophisticated 21st century high-tech interpretation of the classic big Roller. And after staying in production for over 13 years it's time for the next evolution, one that will take this British ultra-luxury sedan to the next decade and beyond.

Rolls-Royce has just unveiled its all-new Phantom, and while it may look just like a refresh at first glance, it is in fact completely new. Under its skin is a more rigid all-aluminum spaceframe which the British luxury brand calls the 'Architecture of Luxury,' so expect other future Rolls-Royce models to use this construction.

The new flagship Roller sedan retains the traditional long hood-short trunk proportions of its predecessor; its sleeker roofline gives it a more contemporary silhouette, while still retaining that familiar Rolls-Royce look. The front is dominated by a larger, more integrated version of the Pantheon grille; this is flanked by slimmer, more rounded headlights. Less creases on the sides and flowing bumper lines give it a much neater appearance.

Rolls-Royce takes its opulent interior designs to a new level—it's a fine balance between traditional and new tech. Its dashboard features a full-width glass enclosed area called 'The Gallery,' and within it are the chrome-rimmed digital gauges on the driver's side, a retractable screen at the center, and an analog clock on the passenger side.
Continue reading below ↓
Recommended Videos
The Gallery can house a selection of trim panels. For those who prefer more personalization, customers can opt for bespoke works of art by an actual artist. The Phantom's switches, eyeball vents, and organ stop controls are made from metal, something fitting for a vehicle this opulent.
As expected, the best place in the car is at the rear. There are several rear seating options, and this includes the lounge seat and the individual seats with a fixed center console that houses a drinks cabinet. The pampered rear occupants also get picnic tables and retractable theater monitors. No less than 130kg of sound insulation and 6mm-thick dual layer glazing all around help make it what Rolls-Royce claims is "the most silent motor car in the world."

The new Phantom's lighter structure, new self-leveling air suspension and electronically controlled shock absorbers help enhance the premium carmaker's trademark 'magic carpet ride.' This big Roller also gets four-wheel steering.

Under its long hood is a new 6.75-liter twin-turbo gas V12 that produces 563hp and a massive 900Nm. Power is sent to the rear wheels through a ZF 8-Speed automatic transmission. Like before, Rolls-Royce will offer the Phantom in standard and long-wheelbase form.
Needless to say, we're impressed.