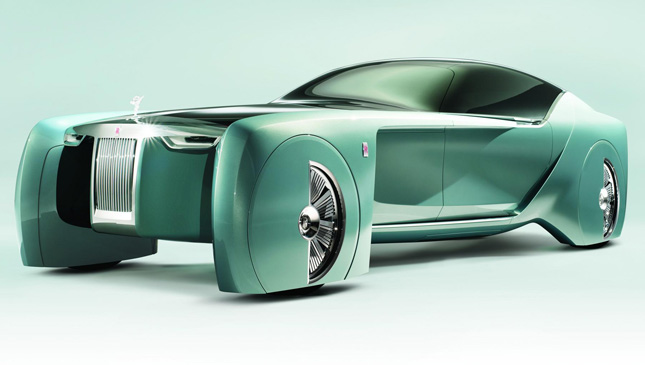 This, boys and girls, is the Rolls-Royce of the future. We'll give you a moment to work out just what you think of it. Or at least attempt to.
Rolls-Royce isn't normally one to make wild concept cars, but this Vision Next 100--revealed as part of owner BMW's 100th birthday celebrations--certainly fits that bill.
As its name suggests, it is designed to preview what form the Rolls-Royce of the next century could take. Yet its focus harks right back to Rolls-Royce's past, with a standard chassis underpinning a body that can be coach-built to the customer's tastes, with the shape and the size both malleable. This may be a good thing depending on how you're handling this Vision's appearance.
"The future customer will commission his or her own concept," the company tells us. "Rolls-Royce will design and manufacture this personal vision of each customer and make every Rolls-Royce a unique bespoke masterpiece."
Last year, Rolls-Royce boss Torsten Muller-Otvos told us that autonomous driving was not top-of-the-list in his company's plans, but this Vision Next 100 appears to turn that on its head.
'Eleanor' is the name of the car's Artificial Intelligence, with any link to the Gone In 60 Seconds Mustang presumably unintentional (Eleanor Thornton, of course, was the inspiration for the Spirit of Ecstasy statue on the hood of every Rolls). Eleanor will drive the car round to its awaiting passengers when they are ready to travel, before hustling them to their appointments--which will already be in the car's diary--in safety. More eerily, 'she' will "brief them ahead of their arrival so they are ready to 'perform'." It's a car-cum-motivational speaker. Is the future scaring you yet?
ADVERTISEMENT - CONTINUE READING BELOW ↓
The drivetrain is zero-emission, we're told, and with motors in the wheel hubs, it suggests electrical propulsion. But Rolls-Royce has told us nothing more specific than that. The lack of traditional engine does mean there's a lot of storage space up front, though.
The interior, meanwhile, is described as a "Grand Sanctuary," which is entered via a coach door and opening canopy, bringing to mind Lady Penelope's Roller from Thunderbirds. The seating is described as a "luxurious throne" (stop snickering at the back), and you'll notice there's no driver seat. The passengers sit before a huge OLED screen, capable of displaying all of the passenger's itineraries and Eleanor's deepest thoughts. Or alternatively, just the latest season of your favorite show to keep you entertained while Eleanor does the driving.
Following your stint in the Grand Sanctuary, Rolls-Royce wants you to enjoy a grand arrival, something the Vision Next 100's off-the-wall appearance will doubtless ensure. While it looks slinky, its dimensions match those of the Phantom Extended Wheelbase.
The wheels measure 28 inches and are made of 65 pieces of aluminum. But even more unexpectedly, they come enclosed in a manner Rolls-Royce hopes makes you think of luxurious catamarans.
But the real showmanship comes from that canopy, which lifts up to allow passengers to exit the car standing, rather than stooping out like they would from under an old-fashioned roof. Unable to resist indulging its finer tastes in life, Rolls-Royce reckons passengers will be framed like the star of Botticelli's The Birth of Venus painting, one we urge parental guidance before sticking into an image search.
You might want performance figures. You might also want to know if there's any possibility to drive the Vision Next 100 (or any potential production car offshoot) yourself. None of this has yet been revealed, Rolls-Royce giving our brains time to process the styling first.
So for now, our question is pretty simple: Like what you see?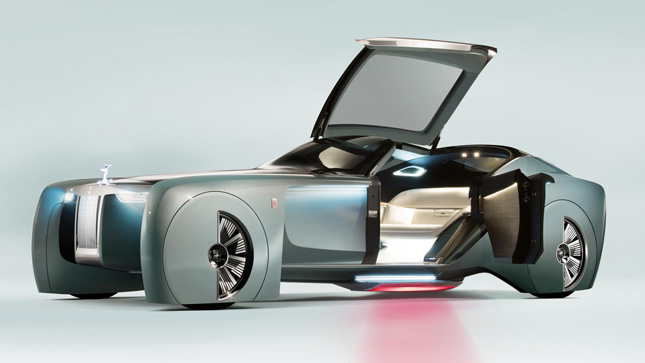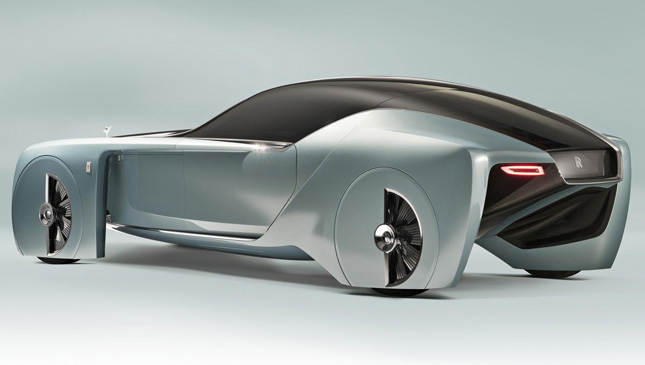 ADVERTISEMENT - CONTINUE READING BELOW ↓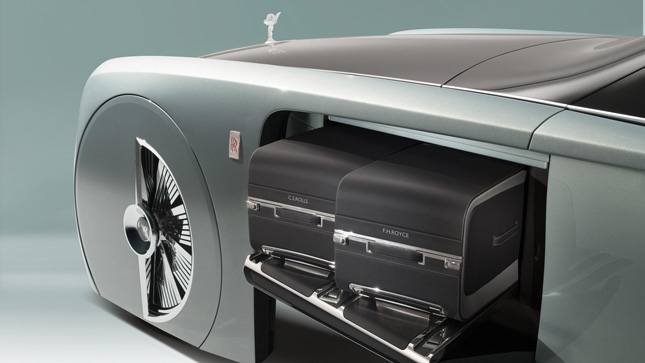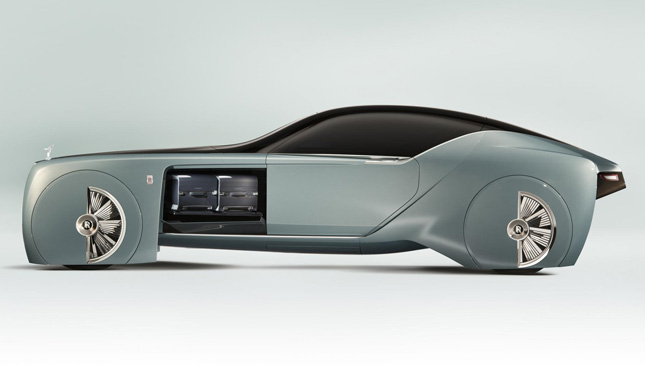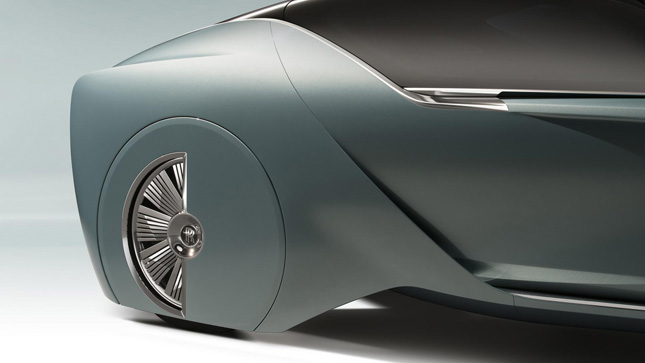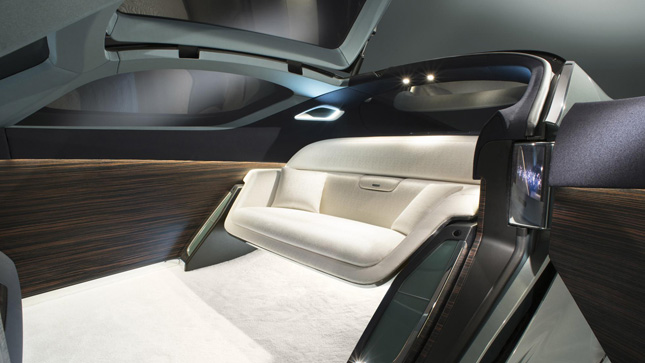 ADVERTISEMENT - CONTINUE READING BELOW ↓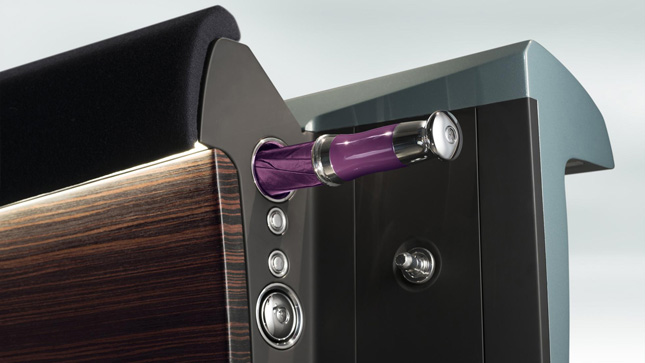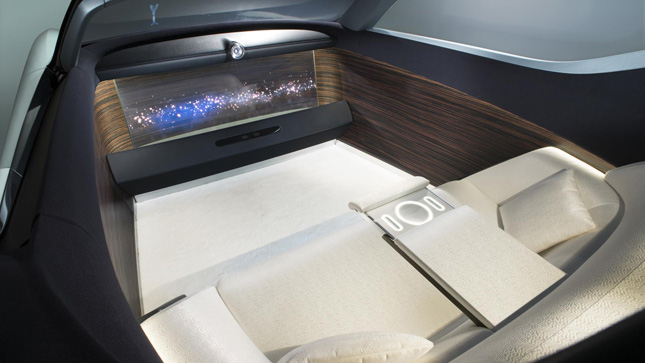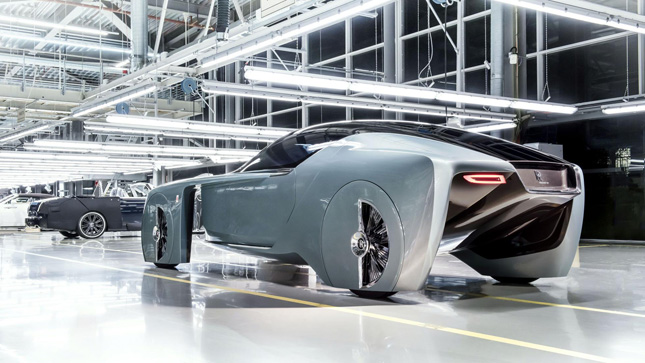 NOTE: This article first appeared on TopGear.com. Minor edits have been made.