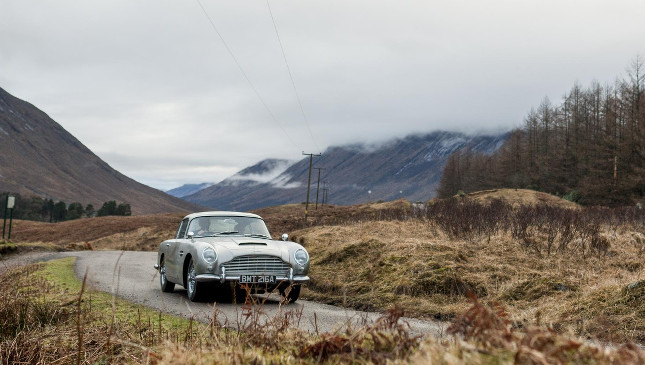 Since its first appearance in the 1964 film Goldfinger, the Aston Martin DB5 has gone on to become the most iconic of 007's cars—and possibly the greatest movie car of all time. It has appeared in six other films in the franchise, most recently in Casino Royale (2006), Skyfall (2012), and Spectre (2015). James Bond and his tech-laden grand tourer will always be inseparable in the minds of both casual viewers and loyal fans.

And for loyal fans with deep pockets, Aston Martin Works is coming out with the Goldfinger DB5 Continuation edition. Created in partnership with EON Productions, the production company behind the James Bond films, this "faithful and authentic tribute" to the movie car will be limited to just 25 units for sale, although three more will be built—one each for the collaborators, and the third to be auctioned for charity.
Continue reading below ↓
Recommended Videos
All units will sport a Silver Birch paint job, and will roll out of the British carmaker's Newport Pagnell facility where the DB5 was originally built. Each one will cost £2.75 million (P187 million) before taxes, with deliveries to start in 2020.
But here's the real kicker: Aston Martin says the Goldfinger DB5 will "include functioning gadgets such as revolving number plates and more." Those last two words hold a lot of promise—what other contraptions could they have loaded into this thing? Surely not the machine guns...perhaps the ejector seat? The radar system? Oscar-winning special-effects supervisor Chris Corbould has played the role of Q in this project, and apparently, his take on an authentic reproduction of the movie car has made the Goldfinger DB5 not road-legal.
"The connection between Aston Martin and James Bond is something of which we are very proud, and it is remarkable that the DB5 remains the definitive James Bond car after so many years," says Andy Palmer, president and CEO of Aston Martin. "To own an Aston Martin has long been an aspiration for James Bond fans, but to own a Silver Birch DB5, complete with gadgets and built to the highest standards in the very same factory as the original James Bond cars? Well, that is surely the ultimate collectors' fantasy."
Unfortunately, owning a Goldfinger DB5 will remain a fantasy for most of us regular people—but at least Aston Martin has been very kind to give us a Lego version.